PeekTab is NOT available – we recommend that you take a look at one of the other monitoring software for tablets:
Top 7 Tablet Monitoring Software
This PeekTab review is written for anyone considering purchasing a tablet monitoring software. Parents who wish to monitor their children's online activities or Internet usage benefit from these products. Employers who would like to have the same oversight into their employees' behaviors are also encouraged to consider this type of solution.
PeekTab Review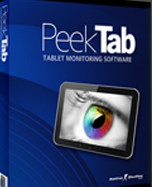 Free Trial: No
Price: $49.97 for 3 months
Website: PeekTab
PeekTab – What It Does
A product like PeekTab allows users to view nearly all data associated with a tablet. The tablet user is never aware that he or she is being monitored as PeekTab provides no indication that it is either installed or running behind the scenes. For instance, it makes no entries in a user menu or task manager.
Monitoring parties can view most data including:
Photos
Contacts
Calendars
URLs visited in the tablet browser
Apps installed on the tablet
GPS locations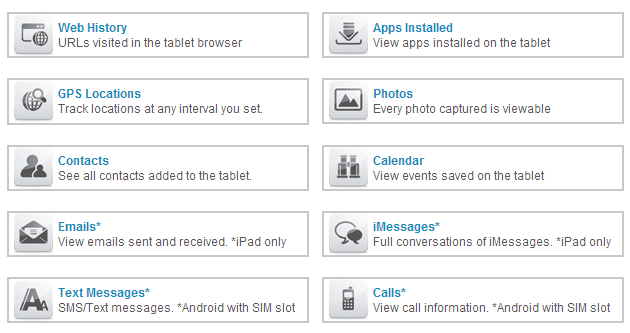 Benefits for Parents
Peek Tab is a great software to help parents keep their kids safe. We know that the tablets are excellent even for young children to learn and develop certain skills on. We allow our young children to use the devices and that comes with the responsibility as a parent to make sure they are safe. Peek Tab can help you keep an extra eye on your kids, make sure they are safe using the tablet.
PeekTab Compatibility
PeekTab is compatible with Apple`s iPad and Android Tablets like Acer and more.
Unfortunately, some functionality is dependent upon the device type. For example, only iPad users are able to view emails that are sent and received. And only Android tablets make call information accessible.
For those who are interested in viewing text messages, full conversations of iMessages are only available via the Apple operating system. Likewise, only Android tablets with a SIM slot allow a monitoring party to view SMS or text messages. If the ability to view emails, calls or messages in a specific format is important but one of the specified tablet types is not in use, then this product may not be the best option.
PeekTab – Other Considerations
Because the program is completely anonymous, privacy laws may require the monitoring party to disclose the program is installed on a device at the time it is provided to an intended user.  Parents do not have to share such information with minors, but employers are subject to differing privacy laws. Like all other monitoring software available today, iPads must be jailbroken before the application can work. Refusal to jailbreak a device does not warrant a refund.
Recorded data is stored for 30 days before it is deleted from the server. Individuals can create permanent records of the data simply by using the download link available in the web portal. This provides users a CSV format file that they can export to Excel.
Installation Process
1. You create your own online account this is where you will see all the recorded tablet information. You will create a username and password.
2. Follow the instructions to install the Peek Tab software on your targeted tablet.
PeekTab Pros / Cons
Pros
Will help you keep your children safe
It will provide you will helpful data
Cons
No money back guarantee or free trial
You have to jailbreak your ipad before installing the program
PeekTab Customer Support
Technical support is available via phone and online. The company also has a full knowledge base available via its website. Software updates are provided free of charge for the life of the product subscription.
PeekTab Price
This program is available for a highly affordable $49.97 for a three-month subscription. Sales are final; there is no trial period or money-back guarantee. For some individuals, the lack of flexibility when it comes to trying the product in advance is not enough to outweigh the great price.
PeekTab Final Verdict
The product is produced from a reputable company, Retina-X Studios. In addition to tablet monitoring solutions, it also sells products aimed to track mobile phone data and network usage. Overall, our Peek Tab review is positive based on the range of functionality the software provides, though buyers with commitment issues should be aware of the no-return policy.
Free Trial: No
Price: $49.97 for 3 months
Website: PeekTab
Have you used Peek Tab? Fee free to leave a comment let us know what you think.