This phone sheriff review discusses the unique features of a spyware product designed specifically with concerned parents in mind. In the digital age we live in today, it becomes increasingly important for parents to have tools to keep their children safe at their disposal. This product is a good tool to have; let us explain why.
October 2014 PhoneSheriff is currently NOT available on the market
Take a look at mSpy instead - mSpy Review
Phone Sheriff Review
Website: phonesheriff.com
Free Trial: No
Price:  $49.00 for 6 months or $89.00 yearly
With the new 2.5 version PhoneSheriff have added some very helpful features for both parents and children.
Anti Abduction – this include tracing your moving child on a Google map, you can also record the surroundings and take stealth photos.
Panic Alert – if your child would ever get in trouble the panic alert button will allow him or her to push the button and send you an emergency alert.
Messenger Logs – you can now monitor WhatsApp, iMessage and Blackberry Messenger BBM logs.
Quick Overview of Phone Sheriff
Like most other spyware products, phone sheriff allows parents to view all activity that takes place via a target device. These things include the ability to view:
Text Messages
Call Logs
Photos and Videos
Address Book
Emails and Websites
GPS Location
In addition, this product has additional features that pick up where traditional spyware programs leave off.
Benefits for Parents Using Phone Sheriff
Filtering and Alerts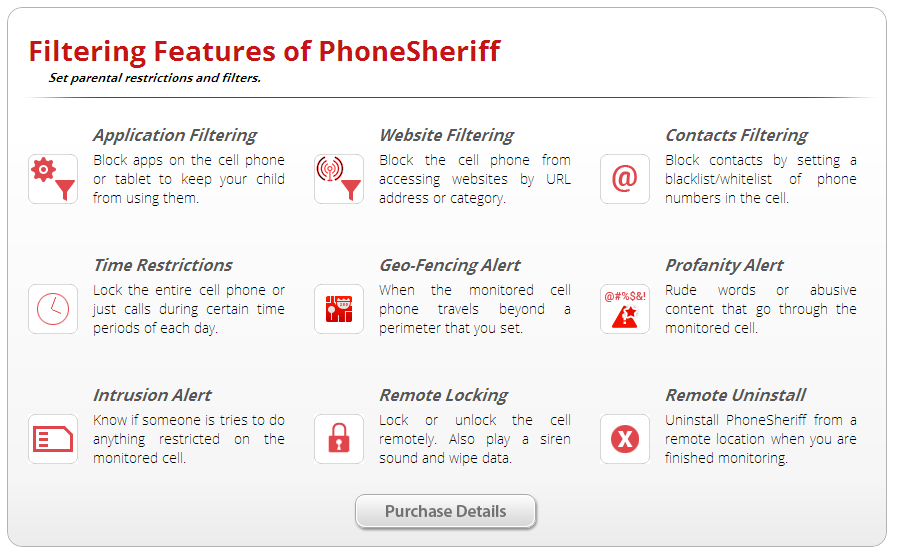 Filtering features sets this product apart from other spyware programs. It features parental controls that enable parents to block phone numbers from calling or texting a child's phone.
Parents can also set time limits for how long the child can access the device features, including web browsing and applications. In addition, parents have the ability to lock the target device remotely using only their own cell phone.


Along with limiting activity via filtering, parents can also set alerts that allow them to see when their child sends or receives messages that contain profane language or other identified words or phrases.  Likewise, it is not uncommon for children to have restrictions placed on their online activities on the family computer. This program allows parents to receive an alert if a child attempts to access blocked forbidden websites from a phone web browser instead.
An additional "alerts" feature many parents have come to appreciate is what is referred to as Geo Fencing. What this means is parents can set a geographic boundary and receive an alert if a child moves outside that established boundary. The child must have the target device on his or her person for this feature to function, but that is not often a problem in the modern digital age we live in.
More Phone Sheriff Features
Another interesting feature this product offers users is the ability to backup and restore data on a phone. If it is ever necessary to perform a factory reset, the backup ensures against data loss. It also creates easily accessible records should accidental deletion of data – such as text messages – occur.
Phone Sheriff Compatibility
Most phones operated on the five major operating systems – Android, Blackberry, iPhone, Windows Mobile and Symbian Os will work with Phone Sheriff. Check their compatibility page to make sure the phone that you will target is working with the software.
Apple iPads and Android tablets is also compatible with Phone Sheriff.
Phone Sheriff Price
Overall, this product is priced at a very affordable, $49 for 6 months or $89 per year. Other spyware products with similar functionality can run that much, $89, for just a three-month subscription. This includes the price of unlimited technical support that is provided via a dedicated toll-free support line.
Final Verdict for Phone Sheriff
This product was developed by a company founded in 1997. Since that time, it has served more than 100,000 customers. In addition to spyware designed to help parents monitor their children, the company also offers a similar system for the iPad tablet and a synchronization product that makes it easy to synch data across devices in any one household.  A strong reputation and quality product leads us to give the phone sheriff review a positive report.
PhoneSheriff is currently NOT available on the market.
Take a look at mSpy instead - mSpy Review
Website: phonesheriff.com
Free Trial: No
Price: $49 for 6 months, $89.00 yearly