Phone Sheriff Investigator is a surveillance software application developed mainly to help parents keep tabs on what their children are up to and protect them from threats that might try to get at them through their seemingly harmless mobile phones.
What makes PhoneSheriff Investigator stand out is that you do NOT need to jailbreak the iPhone, iPad or iPod, in fact you don`t even need the device to install the program. You do need the Apple ID and password though.
This product is NOT available on the market - 
Take a look at our mSpy review instead.
Website: PhoneSheriff
Free Trial: Yes, 7 days
Price: $49 for 6 months or $79 yearly
Compatible with Apple Products: iPhone, iPad and iPod
PhoneSheriff Investigator Features
Phone Sheriff Investigator has a decent set of spy features going for it including:
Text Message Logging – You'll be able to see all text messages sent and received by the target device including message content, phone numbers of participants, and time stamps showing when the conversation occurred.
Phone Call Logging – You'll be able to see the history of all incoming and outgoing calls from the device along with the contact numbers and time stamps for each call.
GPS Location Tracking – The application periodically records GPS data (every time the device backs up data to the cloud – more on this later) which can give you a geographical view of where the phone has been.
Photos – PhoneSheriff Investigator provides access to all the photos taken by the device and lets the user save them to his/her computer.
Contact Numbers – It also provides access to all contacts stored in the phone (useful for getting other information about people with whom the child has been having suspicious/unwelcome conversations.
Notes – It provides access to notes as well (just in case something important is stored in one of them I suppose).
Safari Bookmarks – Internet bookmarks are accessible as well and provide a way for parents to keep track of what their children like to do online.
Benefits of the PhoneSheriff Investigator
Like all popular cell phone spy apps, Phone Sheriff Investigator provides quite a few benefits to parents, The most obvious of these is, of course, the access to a wide variety of data sources that can provide telling information about a child's activities and make parents aware of situations before they become too serious.
The text messaging and phone call data stored by the application gives parents insight into who their children spend much of their time talking to and what they talk about. Using this information, they can make good decisions about whether or not to intervene and how best to do so.
Know Where Your Child Is At – In addition to being able to the read the content of the child's communications, the GPS feature will give parents information about where exactly he/she has been on a convenient and labelled map. This can serve a variety of purposes like confirming that the child's wherabouts were as they said they would be or determining whether or not the child is in questionable locations on a regular basis  (maybe in places that allow drinking or under-age gambling or even just cutting out of school in the middle of the day). It's easy to see how the GPS feature would benefit concerned parents.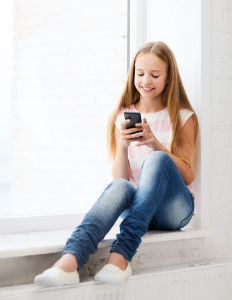 Keep Your Child Safe – The easy access to browser bookmarks helps parents in a different way. Instead of directly pointing them in the direction of the people their children talk to, or where they've been, browser bookmarks will provide insight into something potentially much more useful – to keep them safe. This kind of information has limitless possibilities for pre-empting all kinds of undesirable behavior and nipping it in the bud while it's still in the curiosity stage.
The ability to read notes stored on the device could help in a similar way – depending on whether or not the child typically writes much about their thoughts and plans in the note-taking app.
Finally, access to the photos taken by the device can show parents if their children have been taking inappropriate pictures (only too common these days) and provide an opportunity for these parents to react accordingly – and based on data gathered by the software in other areas.
The combined information from this and other sections on the software might make the difference between the parent needing to sit the child down for a simple "talking to" or needing to actually confiscate the phone or take some other kind of punitive or preventative measure.
The photo logging feature can also work with the GPS feature to provide information about the child's wherabouts based on the photos he, or she, has been taking and the time at which the photos were taken.
Compatibility
Phone Sheriff Investigator only tracks Apple devices – specifically iPhones, iPads, and iPods. The software that provides access to the tracked data only runs on Microsoft Windows PCs.
Installation
Phone Sheriff Investigator requires no installation on the target device and only requires the user to enter the target user's Apple credentials on the Windows application provided and turn on the device's cloud backup feature.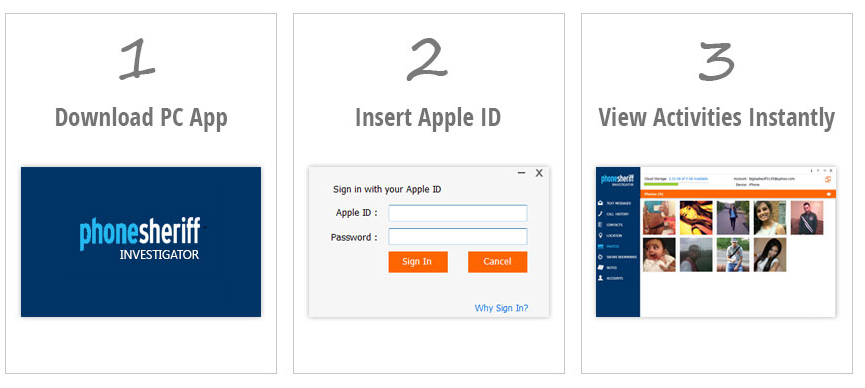 Pros and Cons of the PhoneSheriff Investigator
Pros
Diverse feature set
No installation on the target device required
No jailbreak needed
Relatively low cost software
Cons
Can only track iOS devices even though Android devices make up the majority of the global smartphone market
The desktop software that provides access to the tracked information only works on Windows (some other spy solutions employ a web-based interface that can work on any platform – Windows, Mac, or Linux).
Support
Support is provided first via a well-documented user guide and FAQ (frequently asked questions) section and – if problems aren't solved there – via a ticketing system or by toll free phone number.
Final Verdict
Phone Sheriff Investigator is a great solution for a very specific demographic of users. If your target device runs iOS and you have a Windows computer, it could be perfect for you.
Website: PhoneSheriff
Free Trial: Yes, 7 days
Price: $49 for 6 months or $79 yearly
The feature set it pretty nice and it's a very nice perk that it doesn't require installation of an app on the target device – one of the most tedious steps in other solutions and the one that creates the risk of the user finding out that they're being spied on). Phone Sheriff Investigator is about as discreet as cell phone spy applications can be and is well worth checking out if it's features and compatibility match up to what you need.
This product is NOT available on the market 
Take a look at our mSpy review instead.