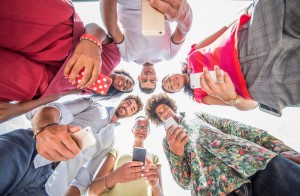 Mobile games not fun enough for you and your friends? Well, maybe it's time you went old school and tried playing a different kind of game –texting games! It may sound weird to you but hear us out.
If you read a few of the games we have in store and give them a try with your friends, you'll see how fun it is! Plus, these games will really test your friendship. Check out our list below.
4 Fun Texting Games for You and Your Friends
Where Am I?
This game is simple, straight to the point, and requires a clever mind! All you have to do to start playing with your friend is text 'Where Am I?' accompanied with a description of your surroundings.
This is a great game to play because your imagination is the limit! You can start by describing a house then move on to something more detailed like a specific room. Want to get more detailed than that? Add a twist by asking who you're with!
Story Builder
This game can either go for hours or end in minutes. It really depends on how creative you get! As the name suggests, you and your friend will be building a story of your liking. There are just a few simple rules you need to follow (note: you can edit these rules to your liking!)
First is that you can only give six words per text. Next is that once you send the text, the other person will need to continue the story however they see fit but only using six words. After that it's just back and forth between you two! Don't be shy and get wildly creative!
What If's
One nice way to get to know someone is by finding out their responses to different situations. That's exactly what this game is about.
All you need to do to start playing is create a "What If" scenario or situation and ask what their reaction would be. Adding rules makes the game more fun and will require a lot more brainpower!
Truth or Dare
This one's a classic. Even way before texting was a thing; Truth or Dare dominated the households of kids everywhere. That's because it's simple to play and all you need to play is another person! You play it like how you would originally play it in person. Ask a person if they pick truth or dare.
If they choose dare, give them a dare and ask them to take a picture for proof. If they choose truth, all they need to do is answer your question honestly. Be careful what you ask your friend to do, always stay safe.
Have fun!
There you have it, folks! These are just some of the texting games you can enjoy while texting a friend. The great thing about these games is that you can play them anywhere, anytime, and with anyone –as long as you're friends of course! If you have any other games you think are worth trying don't be shy and let us know!