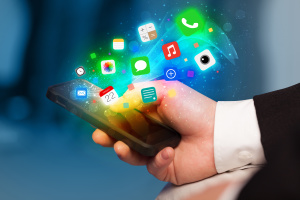 A productive work ethic and lifestyle can benefit greatly from Android's many app offerings. There are many great replacements for common tools such as your calendar, launcher, mail and contact lists. Then there are tools that completely transform your habits.
Tools that just work so well and offer features never though-of, that when used become essential! There are productivity apps for android that are creatively diverse, providing you fun, stimulating ways to save yourself an extra hour in the day!
Take a look below for our choice of three fantastic productivity apps for android that will both bolster your creative juices and improve your workflow.
3 Fantastic Productivity Apps for Android
1. IFTT Do
IFTTT Do is a fairly new application that is bursting with potential! This great addition the range of productivity apps for android allows you to interact with a range of web based services as well as providing connectivity to almost any device that has a web based interface. It features an ability to allow to you schedule any service provided, across many platforms.
IFTTT Do allow you to create buttons for any task created. For example you can create a button to post or Tweet to a specific audience or person, stating your location or any choice of message. Smart devices and IFTTT Do work great in tandem, allowing you to remotely turn on and off, and interact with appliances.
Uses are endless, from turning on your coffee machine in the morning to scheduling a song as and when wished. IFTTT Do has so many features awaiting implementation that it is far too vast to be covered in a short review, your imagination sets the limits!
2. Evernote
Evernote is a great way to take advantage of all the distractions along the way, whilst working online. This is an app that allows you to take clippings, snippets of information from web pages of your choosing.
Evernote is a digital notebook that is full of functionality perfectly suited to the creative individual. You can easy keep one notebook, synchronized across multiple devices, allowing you to capture your thoughts, reminders as well as snapshots of web pages, audio and video snippets.
Free to download and supported across all Android platforms, Evernote is the perfect notebook. Evernote should definitely be added to your list of productivity apps for android!
3. Skitch
Skitch is an intuitively designed productivity app developed by Evernote. Skitch allows you to take a snap of any image, document or page and quickly mark it up through a wide range of functional tools, and then proceed to share it with client, colleague, family member or any community of your choosing.
The extension even allows for mark-ups within your browser. The mark-up tools provided work really well and seem to naturally match the motions chosen by most whilst using Skitch to add notes & indicators.
Free hand drawing, shapes, text, highlighters and more are all available for easy annotation of any of your media.
Hope these come in handy for you, 3 productivity apps for android. Would love to hear from you, what`s your favorite Android app as far as productivity goes? Feel free to chime in with a comment.