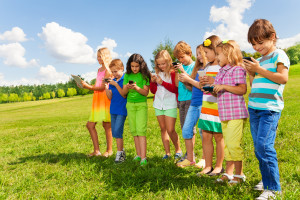 Concerned parents can literally track every aspect of their child's online life, and then some! Apps give you the option to know your child's whereabouts thanks to GPS, whereas fully fledged monitoring applications even let you hear their phone calls and read their sms's. This may be common knowledge to protective parents, but to any teen or tween this is outrageous.
Imagine the implications of finding out that nothing you say or do on your smartphone is secret, or ever was? That the gift of the phone itself was given preconfigured to map and track your life, activities and interactions.
I would be in a state of shock and horror, in truth confused, not knowing how to act or act in future in regards to trust on all other levels. Keeping ones' child safe may be seen as a selfless act that has no boundaries, but the bond between you and your child in truth certainly does!
Always Monitor Critical Data
Communication is key in all aspects of life, and before you consider any form of monitoring or tracking you should first establish an open and truthful channel of communication between you and your child. Be open with your child and always remain truthful, you have hindsight at your disposal and never have to impose a truth, guidance is a far better path than setting restrictions to your relationship.
Certain facets of online security should obviously be monitored, without any trust violation. Passwords, email addresses, logins for online services and other similar unique identifiers should always be backed up, not necessarily as a means to spy but as a backup should you or your child's online security be compromised.
Content Blocking
As an alternative to full-blown monitoring, one should consider the implementation of content restrictions, especially if one has fixed views on what should and should not be seen at certain ages.
Again communication is key, imagine your young one attempting to view something innocent and instead of coming to you to inform you of the block they have encountered, they instead find a way to circumvent the block, intrigued by the prospect of what is being hidden. It is far better to openly know what your child is experiencing, rather than your child turning to other outlets in fear of facing you.
Individual Needs
Each relationship between parent and child is inevitably different, with specialised trust levels and monitoring concerns. Always take care to clearly and objectively assess the level of monitoring that you need for the safe-keeping of your child. Any more intrusion than is necessary, is unnecessary and will result in creating more tension, more trouble and more stress in both your life and the life of your child.
Digital tracking and monitoring technologies are a powerful tool that can be just as disharmonious to the development of your child as they can be in benefit when used appropriately. Alongside these privacy concerns, as the adult you should always ascertain that the applications that your child is using are free from their own digital-security pitfalls. Explaining this to your child will allow you to keep an overview of what they are using, simply for the concern of maintaining a safe online environment. A far better alternative!