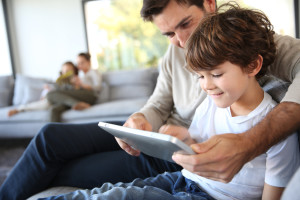 Are you afraid of piggybacking or a looming cyber-attack on your home's networked devices? Today, almost every appliance and electronic device supports internet connection. In addition to your 4K TV and home computers, now your dishwasher, game consoles, printers, refrigerator, thermostat, security cameras, door lock and even the coffeemaker can receive remote instructions, courtesy to your home Wi-Fi.  With the internet, people can not only run Internet-based diagnostics to identify electrical and mechanical problems in their smart devices, but they can also voice control these devices.
Protecting Your IoT Devices
It's beyond question that home appliances and devices that can be remotely controlled have made life easier.  But the question that keeps lingering in our minds is the safety of using the internet in our homes. Chances are that most homeowners don't possess IT knowledge to encrypt their home internet to prevent DNS and IP leakages.
What you don't know is that when a hacker gains access to one of the appliances, he has full control of your home network, regardless whether you've got the most reliable firewall protection on your PC or phone. Because we care for the safety of the internet connections in your home, we've come up with ways which can help you protect the security of your iDevices, phones, TVs and your appliances. These techniques are simple. You don't have to be an expert to start securing the 'Internet of Things (IoT)' in your home.
STEP 1: WEP, WPA or WPA2?
Security for your IoT starts with the encryption in your router. The router is the sole source of your internet connection in your home. Changing your password sounds an obvious thing, but most of us can go for three months without changing the router's password. When changing the password, the encryption scheme that you choose matters.
WEP – This encryption option gives homeowners a false sense of security for their IoT devices. WEP is weak, and it can easily be compromised, and unfortunately, it appears as the first encryption option in selection menus in most of the standard router control panels. After several attempts to shore up this encryption, it remains very vulnerable.
WPA – Developed after WEP was retired in 2003, WPA has a stronger encryption system that boosts the security of your home's Wi-Fi connection. The typical WPA configuration is WPA-PSK. Through public demonstrations and proof-of-concept, WPA is also susceptible to intrusion.
WPA2 – Scroll down on the encryption type selection panel in your router and select this option when changing your password. It comes with Advanced Encryption Standard (AES) that applies strong encryption algorithms to secure your home network.
REMINDER: Use a different password for each device. Make it as complex as possible. You can take advantage of Antivirus programs that normally come with various tools that allow you to manage your complex passwords. Occasionally, perform vulnerability scans for your devices.
WARNING: Don't use default passwords and usernames for any device or appliance in your home. For instance, if your router name is Linksys, change it to your preferred name. Also, don't use names like Living Room, Kitchen, etc.
STEP 2: Add MAC Addresses to Your Router
To completely keep hackers and network snoopers at bay, you need to add MAC addresses of your PC and phones to the router. Your router will only allow secure connections to these devices. Laptops and phone have unique MAC addresses. These addressed have robust encryption that helps in building a secured network environment.
Other things you can do to secure your home network is reducing the range of the wifi signal if you don't live a big apartment. You can also visit your router's provider website and check for the latest firmware for your router. Foster your home's internet safety with the aforementioned tips and you'll thank me later.