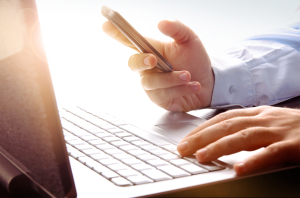 We live in a time where our smartphones are with us 24/7 but for different reasons, we still come back to the classic way of communicating via Email (okay not too classic). You'd think that having your smartphone with you all the time would make it easier to text rather than email but there are instances where we don't have access to our smartphone but have access to a computer.
When that happens and you need to send one of the most important texts of your life (or you're just lazy to type on your smartphone) you'll probably have no choice but to send it as an email. So if you want to be prepared for a moment such as that one, keep reading because we'll be teaching you how to send text messages via email.
Quick Guide on How to Send Text Messages via Email
Sending a Text via Email
You'll be happy to know that it's very easy to send a text through email. The science behind it is that you need to use an SMS to email gateway through your specific carrier. What's great is that you don't even need to use any third party service or app to do this. The only thing you need to know is the recipient's cell phone number and their mobile carrier. Don't know their mobile carrier? It's easy to find that too! Simply Google "carrier lookup" and there will be websites that will help you identify which number belongs to which carrier. For your reference, we included some links to help you quickly get started.
List of mobile carrier gateway addresses
Once you have these two pieces of information, it's time to start sending those text messages via email. Open up your email client and create a new email. Head over to the address you'll be sending the text/email to and instead of inputting an email recipient, type in the cellphone number you want to send it to and instead of the typical "@google.com" or "@yahoo.com", input the cell phone carrier the number belongs to. For example, if you're sending a text message via email to a T-Mobile user you should be sending it to this address: "<insert number>@tmomail.net".
SMS not MMS
However, we highly recommend that you keep the message short and concise to make sure the process works because if you go over the character limit (160 characters) it will be sent as an SMS. This can create complications because sending an MMS requires a completely different gateway address. So not only is there a chance of your SMS not sending but charges may apply to the recipient and we all know people don't like to be charged unexpectedly.
Texting Has Never Been This Easy
Contacting a person by texting has always been quick, easy, and convenient but now that we're given another option to do this just makes it even much easier. Will you be sending texts via email anytime soon? If so let your friends know to make their life a whole lot easier!