Qustodio is a parental control tool for computer and smart device users who want to keep their kids safe from dangerous online content and predators. This review on Qustodio looks at it's features, benefits and other relevant information you need to know about this software.
Custodio (which is translated into the word custodian in English) is a Latin word which means to "watch over" or "guard". Just as ancient Roman parents always guarded their children against imminent danger, Qustodio protects children from seemingly dangerous activities both online or offline.
Qustodio Review
Website: Qustodio
Free Trial: Yes
Price: fr. $44.95 / year for 5 users
Qustodio Benefits
Qustodio offers endless benefits to its users be it schools, businesses or families.
Qustodio protects not only families devices but schools and businesses.
You can monitor and control devices remotely. All you need is an Internet-enabled device.
Qustodios customer care offers professional support to assist you whenever you face a problem
Whether you use a Windows PC, Mac, Android, iOS, Kindle or Nook, Qustodio works effortlessly on any of these platforms
Qustodio offers rich features with ease of use and at an affordable price.
Qustodio Features
Qustodio boasts of the following features.
Powerful Web Filters: Qustodios smart technology with its sophisticated algorithm filters potentially harmful websites even if they are new or uncategorized. You can also configure separate accounts with their own security settings such that an 8-year old cannot access websites that a 17-year old should. When filtering websites, you can either block them completely or warn them if they visit a questionable site.
Social Network Monitoring: Kids sometimes use different names or sign-up to lesser known social networks in order to evade monitoring. They also spend so much time on social networks like Facebook, exposing them to cyber bullies and impersonators and hence must be monitored. Qustodios social network monitoring module lets you monitor your kids activities on social networks including Facebook, Twitter, MSN, and Yahoo.
Time Tracking & Access Control: Qustodio allows you to set how long your kids spend on the phone and how much time to spend on the Internet on both weekdays and weekends. You can also block specific sites and search results to those sites.
App Monitoring & Control: With Qustodios app monitoring feature, you can see usage statistics about applications used by your kids. You can either block unproductive apps or allow the useful ones.
Location Tracking & Panic Alerts: Qustodios location monitoring feature tracks your child's location in real time as long as the device is connected to the internet. In case of an emergency you will get a panic message with the child's current location if they push the panic button.
Call & SMS Monitoring: With Qustodio, you can see your child's most frequently dialled or texted contacts and determine who your child has talks to. You can limit calls to selected groups and block unwanted callers.
Multiple User/Device Support: I love this feature a lot. Qustodio lets you create multiple accounts with their own settings for your kids. No matter how many devices they choose to use, the same settings are applied to their accounts to ensure their safety.
Powerful Dashboard: Qustodio features a simple yet powerful dashboard. Wherever you are in this world, you can access Qustodios web based portal which gives you access to update-to-date details of your child's activities with a detailed report of the harmful apps or websites your child visited. You also receive daily alerts and danger reports on the go.
Why Use This Product?
Qustodio offers solutions to assist parents in monitoring and controlling their children's activities both online and offline. If you want to know your kids do with their devices and determine what they do or not, Qustodio is the best application you can use. It also gives control to administrators over devices and users in both schools and organizations.
Compatibility
Qustodio works on these platforms:
Windows (Runs on Windows XP and above)
Mac OS X
Android (Requires 2.3+)
iOS (Requires iOS 6 or later)
Kindle
Nook
Installation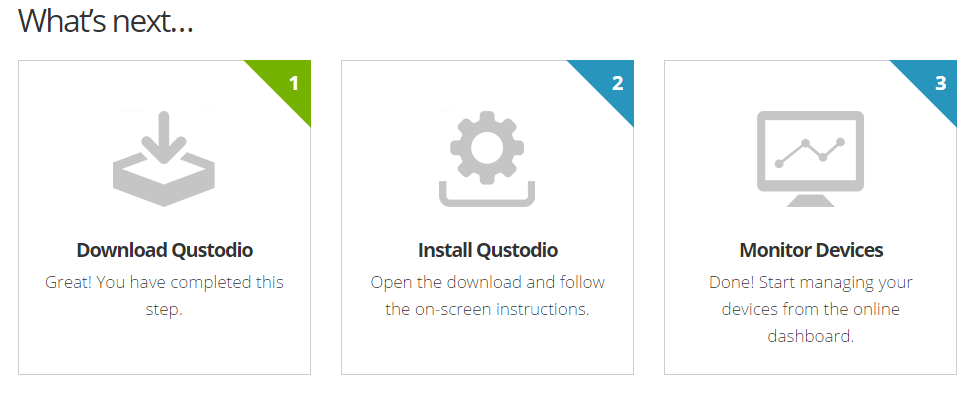 Windows
Open your web browser and click here. In 5 seconds, your download should begin.
Open the filename QustodioInstaller.exe in the downloads section of your browser or open it from your Downloads folder.
Click on Accept and Install and wait for the actual software to download and install.
In the Welcome Screen, choose if you already have an account or not.
Go ahead and set up the software for use by filling the forms and selecting your preferred options.
Setup is finished. Congrats, your child's PC can now be monitored using Qustodios web based Family Portal.
Android
Click here to download
Click on the app, install Qustodio Parental Control and accept the permissions.
Open Qustodio from your app drawer.
Tap activate to grant the app administrative rights.
Choose whether you have an account or not.
Finish your setup, review the success screen and tap Finish.
You can view your child's activity or configure rules by visiting the family portal.
iOS
Search for Qustodio using the Search function
Tap the download button. Enter your password if prompted.
Open the Qustodio App.
Choose whether you have an account or not
Complete the setup.
On the Success screen, read the iOS Setup Guide carefully and learn how to use Qustodio for iOS properly.
Installing Qustodio for Mac and Kindle follows quite the same process for Windows and Android respectively.
Pros
Easy management for multiple users
Comes with a free version
Detailed call and SMS logs
You can block secure anonymizing proxy websites
Forces safe search on popular search engines
Cons
Does not support Geo-Fencing
The iOS app is more of a web browser with restrictions than a monitoring application
Qustodio is not available for Windows Phone or Blackberry users
A tech-savvy kids who get access to administrator rights can disable the app or beat the time scheduler
Qustodio Support
Qustodio has a support page which provides detailed answers to frequently asked questions. It also provides other resources such as user manuals and guides. Qustodio Premium users receive a rapid and prioritized response.
Final Verdict
Qustodio offers an in-depth review of your child's online activities and gives you an upper hand in controlling what they do. Qustodio is available on all the major platforms and it's multi-user abilities enable you create settings for each child though it would be better if you could assign them to specific devices. It's real-time categorization feature lets you block any page that contains unsafe content.
In spite of its minor shortcomings, Qustodio has more potential and this makes it one of the best parental-control apps out there.