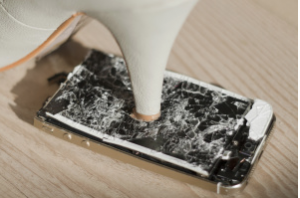 If you're reading this, you've probably broken your iPhone. Don't worry it happens to the best of us and if it hasn't happened yet to someone you know, chances are they will eventually.
Once it does happen, what do you do? It's difficult to think of the next steps when your screen gets broken. Should I buy a new phone immediately? Where should I fix the screen? How much will it cost?
We don't blame you for thinking this since it's natural to want to fix the hardware problem as soon as possible. However, what people forget to realize sometimes is that what makes an iPhone so valuable is what it stores – like your text messages. That's why in this article, we'll be sharing with you on how to recover your valuable text messages from your broken iPhone.
Read Text Messages Broken Phone, from a Broken iPhone Screen
The Solution: Software
To recover valuable software you need to use a software. iPhones are absolutely complex devices running one of the world's best operating systems. This invites a lot of developers to create apps and programs that utilize this OS and it's a good thing that some of them have come up with tools to help the average Joe. Whether it's streaming your favorite videos or recovering your text messages, you'll find a whole variety of these apps and programs available for both Mac and Windows.
Enigma Recovery
This is the app that will help you recover your text messages. Enigma is a data recovery program for all iOS devices and this includes the iPad and the iTouch. They claim that instead of extracting data directly from your iPhone they "mirror" it and this lessens the risk of you damaging your device.
Another great thing about this program is that not only does it recover text messages from a broken iPhone, it can even recover deleted messages and data. To start using the program, simply download it from their website here, install it, and open it.
Also, make sure your iPhone is plugged into your Windows PC. Once you have the program open, Scan your device and it'll show you exactly how many of your existing and deleted messages it can recover. After that, select the text messages that you want to recover and click Export. There you have it! You'll now be able to read your text messages on your PC.
Tenorshare UltData
For Mac users, this is what program you'll be using. There's not much difference in terms of procedure, it's just different software. To start recovering your texts, download Tenorshare Ultdata here.
Connect your iPhone to your Mac and click Recover Data from iOS Device. Click Start Scan to see which texts are available for extraction. Select the text messages you want to recover and click Recover. Plain and simple! 
Recovery Successful
See, it wasn't so hard! Despite the broken iPhone at least you were able to salvage your text messages and even some of your data. That's one less problem to think about given the situation that you or someone you know has a broken iPhone. Be sure to spread the info and share this with anyone who you might think needs to recover their text messages! Read Text Messages Broken Phone, from a Broken iPhone Screen