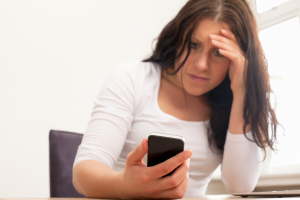 Once you realize that you have deleted photos that you would rather not lose, it is critical to act quickly. Before you begin to recover deleted photos android data connections and Wi-Fi needs to be switched off.
This is to ensure that you don't synchronize with a backup medium, and sync the deletion as well, losing access to an easy recovery means. Whilst most data can be recovered even after some time, is it safest to halt internet connectivity and begin recovery with Dr. Fone for Android.
How to Recover Data with Dr. Fone
Dr. Fone for Android, and iOS, is available for your Windows PC or Mac. This great data recovery package is capable for recovering photos, messages, call logs, videos, WhatsApp history and almost any form of data that is stored on your smart device. Recovery is made possible by a simple three-step process, getting back your deleted or lost data could not be easier. The only prerequisite is that your Android needs to be rooted. If it is, then simply follow these easy steps:
Install Dr. Fone on Your PC or Mac
Register Dr. Fone
Run the application
Connect your smart phone or tablet to your desktop machine via USB (please note USB debugging must be enabled)
Select the data that you wish to recover from the catagories displayed and Click Next
Accept the RSA key prompt on your device and grant superuser permission when prompted
Fone will analyze the data on your phone or tablet and reboot it. Leave your desktop to restablish a connections
Browse through the data preview and select the files that you wish to recover
Click Recover
That's it! Wondershare's Dr.Fone for Android will proceed to recover your data and place it in a folder of your choice. It could not be easier to get back lost photos on your Android! Or anything else for that matter. Dr. Fone works on almost all Android devices and performs complete data recovery in under ten minutes. It can recover over 550 different file types from your Android device in little to no time at all! Even call logs can be recovered.
Android Operating System Repair
In addition to recovering photos, messages and other data, Dr. Fone also provides an outstanding tool termed "Operating System Repair". Within a few clicks you can recover your Android or iOS device from complete system failure, operating system damage, software corruption, freezing and any other software related faults.
Not only can you recover data, but you can fix your phone or tablet too! Recovery from almost any device failure is made possible through the Operating System Repair and you need absolutely no technical know-how to use it.
Online & Storage-based Recovery
Dr. Fone for Android does not only recover directly from your Android's memory, it can also recover from cloud based backups as well. You will be hard pressed to find a data recovery solution for your mobile device that is as intuitive and comprehensive as Wondershare's Dr.Fone for Android.
Don't forget that if you are an Apple user, Dr. Fone is available for iOS as well, providing a wide range of device support and the same outstanding data recovery functionality. Never lose a photo or message again, Dr. Fone gives you everything that you need to have your data back in a snap!