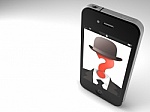 Do you want to recover deleted text messages, iPhone users can do this with ease.
Did you erase one of your texts by mistake? It is easy to push the wrong little red circle when deleting your messages on your iPhone. Maybe you lost or damaged your phone and now you want those messages and that data back. Another reason could be that you did an update and the phone started to act up.
Whatever reason you have to recover deleted messages there is help for you to get.
There are two ways to recover deleted texts for your iPhone:
recover data without a backup

recover data from a backup
As a iPhone user there is a feature that we should not forget when wanting to recover your deleted messages – iTunes. iTunes is the core element connecting your iPhone and your computer, PC or Mac.
Every time you sync your phone with iTunes there will be an automatic backup. These backups can not get accessed though without a software to extract the files. So when was the last time you connected your phone with iTunes? The data that you had on your phone at that time can get accessed.
If you do not sync your phone that often with iTunes there is another way to recover data without a back up. You will need a software to recover the deleted messages and files.
Windows and Mac Data Recovery Software for iPhone
Phone Data Recovery without Backup
Wondershare Dr. Fone Data Recovery Software for iPhone 3GS and iPhone 4
With this software, Dr. Fone, you can scan and recover deleted messages and other data without a backup directly from your iPhone 3GS / 4. This software will also work with your iPod touch 4 and iPad 1.
Supported Windows 7 (64&32 bits)/Vista (64&32 bits)/XP (32 bit); the latest iOS 6 and Mac OS X 10.8 (Mountain Lion), 10.7, 10.6, or 10.5.
This is how it works:
Connect the iPhone to the computer

Run the Wondershare Dr. Fone program

Set up and scanning

Preview and select data to recover
Phone Data Recovery Software from iTunes Backup
Wondershare Dr.Fone Data Recovery Software for all iOS devices including iPhone 4S/5
Dr. Fone is the software to use if you use iTunes to sync data between your iPhone and computer. In this case you do not need access to your phone which can be good if it is lost or damaged. Install the software on your computer and click run and it will recover previous data by extracting iTunes backup files.
This is how it works:
Select "Recover from iTunes Backup File" to scan

Preview and recover previous data
Then you are done.
This software will work if your phone is:
Stolen or lost

Your phone is water damaged or broken

If you deleted things on accident

If you phone fail for no reason could be factory resetting or system failure

You lost data after upgrading

Your phone acts funny after a virus
How Can You Prevent Data Loss in the Future?
Backup your phone

Use a protective case 

Double check before deleting files or messages
I hope this helps you recover deleted text messages iPhone style!