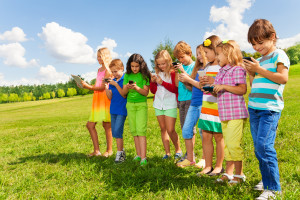 Smartphones are in modern times a near integral part of a life, whether you like it or not. For your young one, being deprived of having one may seem like a punishment.
If your teen or tween has reached the age at which owning a smartphone has become an option, then an iPhone makes a very good choice.
Apple Inc. have a firm focus on privacy and customer security. The iOS platform holds many inherent benefits, unique to Apple itself. An iPhone becomes even more viable if you already use other Apple hardware such as an iMac or iPad.
Here we highlight some of the benefits of opting for an iPhone as the device of choice for your child.
Apple has Restrictions Built-In
If you purchase an iPhone for your child you can take advantage of the "Restrictions" feature that is present in all iOS versions currently available. This great parental control feature allows you to configure the restriction of access to certain applications, alongside being able to setup content restrictions for use within applications.
Adult blocking can be used out the box to block offensive content within Safari. Using restrictions one can completely control access to all device features, such as location sharing. One can opt to disable any service that is deemed a security risk. Apps and services that are disabled are not even displayed. Restrictions is a fantastic feature that Apple gives to all parents.
Apple Family Sharing
This fantastic feature provided by apple involves using a parent's iTunes account to allocate what apps and documents are available to be viewed, installed or edited by any connected "Family Sharing" account.
This is a great way to ensure that you only pay for one app, which is in turn shared to the family, whilst keeping a control mechanism over who accesses what. "Ask to Buy" is another addition to "Family Sharing" that allows connected family members to request the purchase of apps that they wish to use.
Apple Parental Controls are Hard to Bypass
The parental controls and restrictions available on the iPhone are near impossible to bypass. A recent study by the New York Times showed that iOS parental controls are far more effective at maintaining control over your children's browsing and other phone activities.
Android devices may be cheaper, but the overall level of security is tougher on an iPhone. iOS controls even let you configure the use of cellular data, they are far more comprehensive.
Third Party Apps
When the standard capabilities are simply not enough, the Apple store has tons of applications that can assist with parental controls.
Apps are available to track your child's location, record their activities, customize content restriction to a greater degree and there are variations suited to any parent and child. Here are a few recommendations of useful apps to keep your child safe on an iPhone.
Find My Kids – Footprints
Find My Kids – Footprints is a great free app that gives you a map using waypoints to visually depict where your child has been. One can track multiple devices and a timeline is given allowing you to briefly view an overview of travels throughout the day.
ParentKit
ParentKit is a free app that gives parents a host of tools to maintain the privacy and security of their child. It allows you to schedule allowed usage and content viewing on your child's device, giving the basic functionality of a remote for your child's iPhone from your device. The app is well designed and easy to use, with a bright and concise menu system that gives access to all functions.
Mobicip Monitor For Parents & Admins
Mobicip Monitor For Parents & Admins is a free app that allows you to monitor and restrict your young one's browsing activity. It is extremely easy to use and detailed reporting is available, covering all facets of browser and app use. This fantastic free tool even works on the Apple Watch, and is a near must-have for any concerned parent.
Will you be getting your child an iphone?