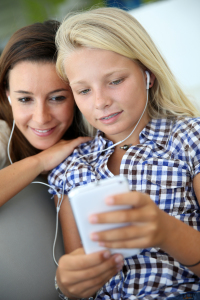 We are smack dab in the digital age whether we like it or not. Our lives are lived more and more online. We're the adults and can look back on what life was like before Web 2.0, kindle books and cell phones. Our kids never had a world that wasn't digital. They are savvy consumers of the digital world and we are groping to keep up.
So how do we keep our kids safe in a world that we don't understand as easily as our kids do? There are Smartphone trends that are here to help parents cope in this new and emerging world we find ourselves in.
The Basics
The Internet Keep Safe Coalition, a not for Profit organization dedicated to keeping kids safe online advocate the three "C"'s of safe internet activities.
Contact, your child should know personally every person on their contact list, and if the person isn't on that list, there should be no contact.
Content should be safe and age appropriate for your child.
Conduct should be respectful at all times.
The New Smart Phones
New to the market are smart phones made just for kids. Kurio phone is just such a device. Among its many built in features is GPS maps with safe zones and danger zone alerts, monitor phone calls, contacts, texting and apps it also features a safe browsing app.
There are other similar smart phones that are geared specifically for the tween and younger user. Teens won't be happy with these "kiddie" phones but for them there are other alternatives.
Smart Phones for Teens
Most smart phones have built in parental controls and some data plans have a bevy of features you can purchase to keep your kids safe.
With data plans you can set usage limits, receive alerts and reports on usage, and monitor the number of texts, calls and web browsing being done and much more.
These plans can be expensive but if you have concerns about your child's safety, this could be the solution. One drawback from using these systems is that tech savvy kids can hack the parental controls and you're back to square one.
Apps to Keep Kids Safe
The latest Smartphone trends to keep your kids safe are apps that are available to monitor your kid's activity on the phone.  Some examples of providers are mSpy, Qustodio, and Net Nanny.  They offer things like:
Call/Usage schedule that prevents use of the phone at designated times, like during family time. With some of these programs you can restrict the usage on demand, so if your child is texting during dinner, for example, you can turn their phone off until the meal is over.
Monitor social media and other usage. You can see who your child is talking to and some of the services let you see sent and received text messages as well as those that have been deleted.
Track the device location so you know where your child is.
You can block games and apps that you don't want your kids using.
Monitor apps, search and web usage and ensure safe search is used.
Prevent phone use while driving (over 10mph)
The latest Smartphone trends for keeping your kids safe are pretty impressive. However, none of them substitute for open communication without blame or judgement between you and your kids.
The number one reason kids don't tell their parents when something bad has happened is because they are afraid of getting in trouble.  Your kids should be reassured regularly that they can come to you with anything and you will listen to what they have to say in a respectful manner.
If you have taught your kids, and continue to teach them how to deal with the risks of online communication, then you won't need most of these applications and the ones you do use will be a backup for emergency purposes only.
Respect your kids and they will respect you, and that will keep them safe in this digital age we find ourselves in.