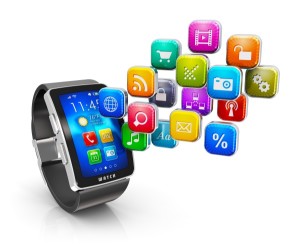 Do you want to learn more about the new Smartwatches that are out?
Using a smartwatch has become very popular and know how to use it and knowing what it can do for you, will highly benefit you. In this article we will talk about some of the benefits of using a smartwatch. We will also look at the two alternatives the Apple Watch and the Android Watch.
Benefits of Using a Smartwatch
Here are just some of the benefits that you can get from using a Smartwatch:
Saves Time – Smart watches can deliver notifications from applications. This means that you will get direct access to messages and notifications your phone receive while you are away from it.
Comes with Various Features – There are different features that smart watches have that other devices do not. For instance, there are some smart phones that have fitness features for people who are into living a healthier lifestyle.
See Text Messages – You know that it is so much easier to check out your smartwatch rather than your phone especially when you are on the go. Your received text messages can be read through your smartwatch.
The Android Wear and the Apple Watch
If you are an Android user, your best bet is to go with an Android smart watch, the Android Wear. You want to make sure that the watch is  compatible with your smartphone.
If you are an Apple user, using a iPhone then you probably want a Apple Watch.
Both the Android Wear and the Apple Watch are sleek and modern looking. The have really done a good job designing both these smartwatches.
Apple Watch
Whatever your choice may be, there will be differences for each one. For instance, the Apple Watch can give you all the information and details that you need regarding the weather and events. Apple watches can be the best choice for people who would like to be in tune with all the social interactions that they may be missing. Through the watch, they are able to keep track of their social networking sites as well as their messages and their calls.
The Apple watch are available in a few different models but does not offer the variety that the Android Wear does.
Android Wear
The features of Android Wear on the other hand may vary depending on the maker of the smartwatch. Aside from the various fitness features that are available, also give out some details regarding third party applications that may be installed on the phone.
The Android Wear comes in many different looks. You can choose between 1000 watch faces, all unique and fun created by artists, brands and developers. This allows you to change your look often if you would like.
Before you get your smartwatch make sure it is compatible with the phone you use. If you go with a Apple Watch or Android Wear it´s easy to tell but there are many other options out there.
So what`s your take on smartwatches? Do you use one? Are you thinking of getting one? Please let us know in the comment section below.