SpyBubble touts itself as a cutting-edge solution to phone monitoring, but this SpyBubble review has a less optimistic outlook that the product is as good as others on the market. After reviewing the facts, this product appears to offer no more than other well-established spyware products.
What used to be SpyBubble`s advantage, was that they offered a 1 year subscription for only $49.95. Summer 2014 they changed that and now offer a similar purchase plan as their competitors, a 3 and 6 month subscription. With this came some extra features (tracking Instant Messages) but they are still falling behind their competitors like mSpy. Here is what you should know if you are considering purchasing this product.
There are a lot better options out there, we do not recommend this product, because of all the negative feedback it has gotten.
SpyBubble Review 2016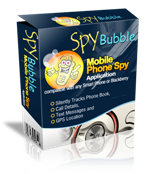 Overall ranking: 2/10
Website: spy-bubble
Free Trial: No
Guarantee: 60 Day Money Back Guarantee
Price: $49.95 for 3 months, $79.95 for 6 months
Click Here to see other alternatives! 
Overview
A primary concern is the scare tactic marketing. Parents with teenage children are naturally concerned with their whereabouts. What parent would not want to protect his or her child from hanging out with the wrong crowd? This product leads potential customers to believe they have no choice but to purchase this software because loved ones simply cannot be trusted.
The people behind this product do a great job at appealing to fear and sharing personal anecdotes about the pervasive lack of trust in a modern, digital age. The only thing I began not to trust was the product itself.  In fact, the actual features of the product were practically not featured in the advertisement at all. Here are the facts about SpyBubble's functional features.
SpyBubble Benefits
Benefits for Parents – are you worried that your child is texting somebody s/he should not? With Spy Bubble the worry will be gone because you know what your child is up to, you know whom they are texting with. Keeping your child safe becomes easier with SpyBubble. You will know where they are at all times, you will be able to sleep better at night.
Benefits for Employer – knowing where your employees are at all times and knowing that they will not leek company info will allow you to focus on your business, the things that matters to you. If you are a business owner and are looking for a spyware, I would take a look at this chart though. There are better alternatives for you.
Features
Text Messages – Like most spyware systems, Spy Bubble logs text messages, you will be able to view sent and recieved texts.
Call History – In addition to text messages, the system also records spy logs that include incoming and outgoing phone numbers, the time of the call, and the duration of the call.
GPS Location – the software allow users to track the whereabouts of an individual by accessing the GPS within the phone. You can view location history, current GPS location and GPS travel routs.
Internet Activity – is also available for review via this system. The software records URLs accessed via a phone-based internet browser. It also logs emails and keeps track of photos sent and received on a device. Again, each of these features are standard with most reputable spyware programs.
Instant Messages – WhatsApp, BBM and iMessages are the social media messages that can be tracked with SpyBubble.
Access Records – To access these records, an individual is required to log in to a web page where the information is saved. This data remains intact on the website even when the information is deleted from the phone itself. The user need only install the spyware on the device one time; it remains undetectable from that point onward.
Pay Extra for Additional Features
For an additional upcharge, users can access features that allow them to tap into the phone to listen to what is happening around it. This is deemed environment listening. Users who purchase the pro version that provides this access can also listen in on phone conversations. Call listening seems to be a bit more practical, and might be worth the additional expense.
Compatibility
BlackBerry OS 4.2.1 or higher
Android 1.0 or higher
Symbian S60 3th Edition, 3th Edition Feature Pack 1, 3th Edition Feature Pack 2 and 5th Edition Phones
iPhone OS 2.x, 3.x, 4.x, 5.x, 6.x and 7x
iPad and Other Tablets
Windows Mobile 5.x and 6.x
Make sure that the model you want to monitor is listed on their site.
Installation Process
If you have an iPhone installing Spy Bubble is an 18 step process…
You should be aware that you have to jailbreak the phone if this is not done already. They send you to another site to get the jailbreaking done.
This is one of the reasons this software is not getting more than 1 out of 5 stars from our review team. There are simply better alternatives out there.
SpyBubble Pros/Cons
Pros
Basic features
Cons
Installation – like I said 18 steps to install this software on an iPhone.
Jailbreak – you have to jailbreak the phones before the software can be used.
Support – no phone number or email address for support.
Price – this product is now priced about the same as their competitors with less features for the money. What ones set them apart from their competitors, a yearly subscription for a low fee, is now gone.
Customer Support
I do not find a phone number or email on their website. The only way to get hold of them is to submit a request.
SpyBubble Final Verdict
At the end of the day, there is really little if anything to differentiate this product from more established competitors in the marketplace. Considering the product next to its competitors, this Spy Bubble review is a no buy.
Overall ranking: 2/10
Website: spy-bubble
Free Trial: No
Guarantee: 60 Day Money Back Guarantee
Price: $49.95 for 3 months, $79.95 for 6 months