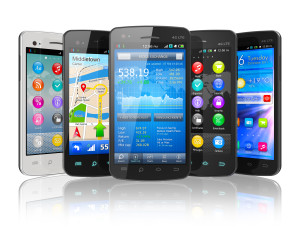 A stealth camera app is the way to remain discreet while you photograph whatever you like.  Finally get those candid shots you've been trying to capture for ages. Your subjects will never know when they are caught on film.
Apps for iPhone
Camucam is a well-known app that features an easy-to-use and discreet user interface. When accessed, the app appears as a dark black screen, a block of text or a game console. Users also have the option to create their own custom decoy screens.
A simple swipe across the screen will adjust the screen transparency to reveal the camera's view. This app also features a one-click tap-to-snap photo function and a custom foreground editor. Taking pictures on the sly has never been so easy!
Stealth Camera is another popular app for iPhones. It has two modes – blank and web – that allow users to takes pictures and records videos. In blank mode, users can access the camera to record images even though the phone screen remains dark. Hence, blank mode gives the illusion the phone is powered off.
In web mode, the camera is operational although to anyone else it looks as though a user is surfing the web. In either of the two modes, a user can adjust the quality of photos and video as necessary.
With any camera apps, it is important to understand where those photos and videos end up. The Stealth Camera app for iPhones provide users access to a private media vault that stores pictures and videos in a password protected file.
Additionally, users can import or export files captured in stealth mode to the standard camera roll, media vault, and vice versa.
Apps for Android
The Mobile Hidden Camera app is popular among Android users. Upon installation, this camera app looks like a notepad app. When opened, what looks like a notepad actually allows a user to take still pictures or record high-resolution video images. In addition, users can take continuous photos with this app.
This app stays hidden with stealth attributes like no flash and no sounds when the shutter clicks shut. It blocks alerts associated with incoming calls and messages when in use. Finally, it appears as though it is  in standby mode when taking a video or  picture.
By masquerading as a notepad, this app has the added bonus of hiding in plain sight. If someone were to access your phone, he or she would never know it was there.  Files associated with this app can also be modified; no one will be the wiser.
Typical Features
Regardless of the device and app, there are a few standard features common to most stealth cameras. Single-tap functionality is important. You don't want the fact that you have to tap the screen multiple times to give away what you are up to.
Instead, vibration options should provide feedback for starting and stopping camera clicks and video recordings. In addition, users should have the option to take timed photos with just a single tap. Finally, advanced focus, exposure, and white balance adjustment features make for a quality stealth camera app.