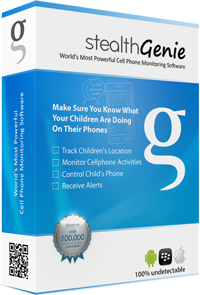 Stealth Genie is a leading cell phone monitoring service that allows parents to keep an eye on their children and employers the opportunity to see what their employees are doing on the company phone.
Tracking what your children and employees do is important because it will allow you to identify if there is any potential danger, if they are not being productive, and what they are conversing about.
Stealth Genie is downloaded onto the target phone and is not detectable. This allows for ease and privacy while tracking what your child or employee is doing. There are basic functions to Stealth Genie that include call monitoring, email spying, and text message data collection. There are many pros to using Stealth Genie but there are also some cons.
Stealth Genie Pros
GPS Tracking
One of the pros behind Stealth Genie is that it allows you to track locations and see where the phone is at all times. This is a great tool for any parent and will help you know exactly where your child is and what they are doing. This feature will also allow you to know when your child is fabricating the truth and not telling you where they have been or when an employee goes out for delivery, where they have been.
Easy to Use
Unlike other monitoring software, Stealth Genie is very easy to use and is user-friendly. The software is able to be downloaded within just a couple minutes so there is no long drawn out process. The information collected from the target phone is available right on your account screen and you can view it from anywhere.
Compatible
Stealth Genie is compatible with many different phones making it an ideal choice for consumers. It runs on Android, Blackberry, and iPhone platforms. You are more than likely able to find your phone on the list of compatible phones.
Stealth Genie Cons
Restrictions are Limited
One of the cons to Stealth Genie is that there is no feature to actually block the installation of applications. This means that your child or employee can install whatever they want on their phone.
You are also unable to place any type of time restriction features on the phone. Time restriction features only allow the phone to be accessed during certain times of the day.
Blocking Features
One of the other downsides to Stealth Genie is that it does not allow you to block websites on the phone. It monitors the Internet and websites but there is no option to actually block a specific page. This can be disheartening for employers or parents who wanted to prevent their child or employees from looking at a specific site or page.
Conclusion
Overall, Stealth Genie is a great cell phone monitoring tool that has many great basic features and good complex features intertwined with it. If you are looking for a software program that block websites and applications, this is not the program for you try mspy.