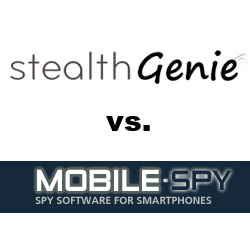 StealthGenie or MobileSpy is Currently NOT Available  – Check out our article:
Top 7 Monitoring Software – we review them side by side, click here.
Would you like to compare Stealth Genie vs. MobileSpy? Finding the perfect software to spy on your child's cell phone can be difficult, especially when you don't know where to begin.
This software is designed to help you keep an eye on what your children and employees are doing at all times. This way you can make sure that they are behaving, not accessing questionable sites, and being productive.
Two of the top software applications out there for mobile cell phone monitoring are Stealth Genie and MobileSpy. This article will delve into each of them a little farther so that you can decide which one will work better for you.
Features of Stealth Genie and MobileSpy
Both Stealth Genie and MobileSpy offer their own set of features. These features are what the application is able to do and what it offers you. It is no surprise that some software offer different features and some may include more than others. This is why it is important to make sure you know what you want your application to do before you purchase it. You may specifically want to be able to see where your employees and children are at all times and monitoring their text messaging use is less important. Finding a program that will accommodate that is more beneficial than one that does not.
Stealth Genie Features
View text messages, even ones that have already been deleted
View call log
Call intercept
GPS location tracker
Restrict areas
Read emails
View instant message data
View photo and video files
Tap the phone
Monitor Internet activity
View calendar and contacts
Control the phone remotely
Instant notifications and alerts
As you can see, Stealth Genie offers a lot of features. Inside each of these features are additional features to help ensure the best possible monitoring software on the market.
MobileSpy Features
View sent and received text messages
Live control panel
Take secret pictures
Record surroundings
View social networking
Control apps installed
View instant messages
View Internet activity
GPS locator
View call information
View YouTube history
View emails and social networking information
Remote uninstall
Alerts
View contacts
Send commands
View calendar and tasks
MobileSpy offers different benefits than Stealth Genie and has a comprehensive list of things that it can do. Just like Stealth Genie, MobileSpy contains features within features that are useful and beneficial.
The Main Difference Between the Two
MobileSpy offers a stealth camera where Stealth Genie offers call recordings.
With Stealth Genie you can get GPS restricted area alerts this can really come in handy for parents wanting to know where their kids are at. With Stealth Genie you can also wipe all the data off the phone where this is not possible with MobileSpy.
The two softwares also monitor different social media and chats. Both will allow you to see Facebook chat and WhatsApp. MobileSpy only will allow you to view Twitter (Android rooted phones only).
iMessages, Blackberry messenger and Gtalk are also available to view with both softares. In addition MobileSpy monitor Yahoo and Stealth Genie will monitor Skype and Viber.
You do want to make sure the specific feature is compatible with the monitored phone.
Choosing whether or not MobileSpy or Stealth Genie is best for you will depend on whether or not each contains the features you are looking for.
Stealth Genie Control Panel

MobileSpy Control Panel

Price Points
Every software program is more than likely going to cost you money. These two programs have different pricing for each of them and choosing which fits into your budget will be something for you to look into. Each of them are reasonably priced and are worth every penny.
MobileSpy
MobileSpy is available for purchase by purchasing the license. The license comes in either a 3 month or 12 month term. The pricing for the 3 month term is $49.97 and the 12 month term is $99.97. If you choose to add the live panel onto your 12 month subscription, the cost will be $139.97. There are no hidden fees and the price you pay is good for the term you purchased it for. You can choose to extend your license as long as you need the program and you can cancel at any time.
Another benefit is that automatic renewal is optional so you can choose to have the subscription renew and charge you or you can leave it up to yourself to remember. This is a great option because it will prevent charges showing up that you forgot you signed up for.
Stealth Genie
Stealth Genie has a couple of different options when it comes to purchasing their product. You can choose from a basic, gold, or platinum plan for any Android phone. The prices range from $8 per month to $16 per month. You choose intervals of either 3 months, 6 months, or 12 months. The prices will fluctuate accordingly depending on the plan and length you choose.
The plans for iPhones include a basic or gold version and the price ranges from $8 per month to $13 per month. You also choose to purchase either plan in either a 3 month, 6 month, or 12 month increment. The price fluctuates accordingly.
Lastly, the plans for any Blackberry phones include basic and gold ranging from $8 per month to $13 per month. Again, you choose 3 month to 12 month increments with staggering pricing plans.
Stealth Genie offers low pricing plans for individuals and as you increase the level of the plan, the more features you receive.
Ease of Use and Support
It is important that you have a monitoring software that is easy to use. If it is not easy to use, it will defeat the purpose of even having one and you will find that you never even touch the program.
Stealth Genie
Stealth Genie is easy to use and provides you with an interface that you can access everything from. The installation process is quick and streamlined through a guide to help even the most inexperienced user download the program.
Stealth Genie also offers a few different support options. Customers are able to review the FAQs, watch a live demo, take a tour of how everything works, and even speak live to a representative through the convenient chat. Customer service representatives are available 24 hours a day, 7 days a week.
MobileSpy
MobileSpy is also easy to use and you will receive information about downloading it once you purchase it. The installation is simple, easy, and quick for everyone. On the website, you can also view screenshots to help aid you in learning how to use the program.
MobileSpy offers a number of various support options including an FAQ, user guide, support tickets, and even a live chat that allows you to speak with a representative whenever you need to.
Conclusion
Stealth Genie and MobileSpy are both great monitoring software applications. They will both provide you with what you need and each one has its own set of features. Support is available for both of the programs if you ever run into a problem and both are easy to use. One of the best things about these two applications is that they are undetectable. You will be able to monitor your children and employees with ease.
So which one is it going to be Stealth Genie or MobileSpy? Please leave a comment and let us know.