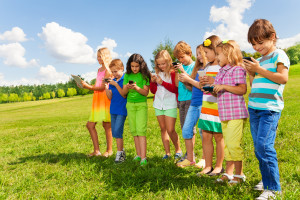 Your young-one on the verge of his or her teen years is at a critical stage of social development. At this age your child is in the process of developing social structures and perceptions, with all outward social stimulus being a direct influence to the personality growth of your tween.
Once your no-so-little-one begins exploring online communities the effect of influence grows significantly.
In order to oversee your tween's safety online we have structured ten basic "commandments" that, if adapted and followed, will boost your child's security and ensure a positive benefit from online activities and interactions.
 The 10 Commandments of Tween Safety
1. I will never give out my personal information in any form.
No revealing real names
No revealing your address
No revealing telephone numbers
No revealing of parent's phone numbers or work details
2. I will never post photographs of myself or others without the permission of my parents.
No revealing your identity online!
Sharing of photos with friends and family only after permission granted
3. I will not post demeaning, insulting, accusatory or threatening messages to others.
No picking fights
No bullying
No teasing
No accusing
4. I will not respond to demeaning, insulting, accusatory or threatening messages from others, instead I will tell my parents.
No responding to "trolls"
No retaliation, no fight
Parents must report to proper authorities, not pursue a conflict using online communities
5. I will not share my passwords or other login information with anyone.
The only person who must know your password is you
Regardless of purpose, never share accounts with others
6. I will not meet with any person that I meet online without discussing it with my parents.
New, similar-aged friends should first be passed by parents
Take thorough care to ensure that you are dealing with real parents of a real child, and not a persona
Meeting with those you meet online is not something to undertake lightly, evaluate your child's new friend carefully
Meetings should only be made in a public area
7. I will not install software without first having it checked by my parents.
Malicious software is often hidden in seemingly-innocent software, have you child let you check it
When checking software ensure that you view reviews, customer commentary and, if possible, only install from well-trust sources
8. I will discuss anything that I find offensive, disturbing, unsettling or confusing with my parents.
Do not hide things from your child, rather have them ask you openly and discuss the matter with discretion
Do not jump to conclusions and take rash actions, one unpleasant site should not mean total "PC ban", listen to your child's and explain things using a perspective that they will relate to
Your child must know that nothing is taboo, this giving you the opportunity to mould your child's development as you see best at all times
9. I will always think before I post, considering whether my online activity is something I would do in front of the person and / or my parents.
An honest, harmless post, with just one element of structuring out of place, can be taken completely out of context, causing conflict online.
Make certain that your tween understands that just because a persona is used to protect your identity, it is not a mask to hide behind
10. I will not replace English with acronyms and unnecessary abbreviations
"Netspeak", text message informalities and other time saving techniques are handy, but they aren't a replacement to the proper English language! Not quite a safety element, but establishing this does help to guide your tween towards realizing that online activity is real activity and it has consequences.