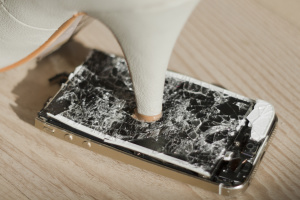 Let the smartphones show off their macho-ness!
Let's face it. It is not always easy to keep smartphones safe. In the spur of the moment, they can fall off a cliff and hit the bottom of the valley and completely crack open. It may even fall out of your pocket while you are jogging and you step right on the face, costing you hundreds of dollars to fix the touchscreen.
Yes, while some treat their smartphones like their babies, there are others who put it through torture without realizing it. So for those people, here's a list of potential choices for them not to feel so guilty torturing them.
These are tested for their extra reliable durability – a combination of IP67 or IP69 and MIL810G (military standard) to withstand any kind of hit.
The Best 17 Smartphones for Clumsy People
CAT S50 can handle touch even when your fingers are wet or the screen is wet. It can project audio even in noisiest ambiences, using its integrated sound enhancement system. It carries a 2630mAH battery, housing a Snapdragon 400 SoC with a 720 X 1880 pixel display and an 8MP camera. It is attuned to 4G LTE networks.
Sonim XP7 has a 4 inch touchscreen instead of a physical keyboard. Additional attractive features are an 8MP camera, a Qualcomm Snapdragon 400 SoC, an LTE radio with MIMO antennas, an exceptionally loud speaker, and everything powered by a 4800mAh battery.
Housing a 3100mAh battery, the Kyocera DuraForce carries a 4.5-inch screen, 8MP camera and a Snapdragon 400 SoC.
Resistance against extreme temperatures, humidity, vibrations, hard drops, and liquid damage are documented in Nautiz X1's specifications. Four-inch- 480×800 pixel display can work with Android 4.0 or Windows Embedded Handheld 6.5.
A four- inch IPS display Kyocera Torque carries Smart Sonic Receiver for even more clarity in sound. This also has 1.2GHz dual-core CPU and 5MP camera, and is 4G LTE network compatible.
Only certified for MIL810G standard
NEC Terrain is packed with delight—640×480 pixel display, 1GB RAM, Snapdragon S4 chip and dual speakers. Dual facing speakers make it easier to hear conversations in noisy environments.
Only certified for IP67 to IP69 standards
The Sonim XP6 has IP69 rating, which is IP 67 plus complete submersion in water. You can operate its touchscreen with gloves. This has an extraordinarily loud speaker and 4800mAh battery.
Conquest S6 is IP68 certified. Weighing 290grams, it holds a 4000mAh battery. It runs on a 64-bit MT6732 quad-core processor. Storage wise it has 1GB RAM and 8GB memory.
JCB ToughPhone Pro-Smart meets the IP67 standard. However the rest of its features are a setback—Android Gingerbread, processing at speeds of 800MHz with a 256MB RAM.
IP68- certified Durrocomm Conquest contains a silicon cushion between the inner and outer shells. Its 4.5-inch screen functions normally even when wet.
The un- certified lot
Kyocera Brigadier has a un- scratch- able 4.5- inch Sapphire glass display, resistant against water. Once again a Snapdragon 400 SoC, an 8MP camera, and a 3100mAh battery are also inclusive.
This Plum Gator Plus is a less costly option with some decent features like water resistant body, 3.5- inch screen, a 1.3GHz dual- core processor, and a 5MP camera.
VeryKool Rock RX2 is expected to function after a 5-meter drop in water. Touching with gloves on its 4.3-inch tempered glass touchscreen is fine. It holds a 13MP camera. Even though it only carries 1900mAh battery, it has a 1.5GHz quad-core CPU and 16GB memory.
CAT B15 can survive 6 feet drops. Screen functions when it is wet.
The CASIO G'zOne Commando 4G LTE has dual speakers as well and as its name suggests, fast internet access with compatibility with 4G LTE network.
Housing a 4200mAh battery and a 12MP camera, Runbo X6 carries a 5-inch screen running on a quad-core MediaTek processor.
Tag Heuer Sub Nano is coated with liquid- repelling coating. Along with a 5MP camera, this has 1 GHz processor for a 3.5-inch screen. This is a limited edition smartphone as only 500 units are manufactured.
The Best 17 Smartphones for Clumsy People, which one will be your pick?