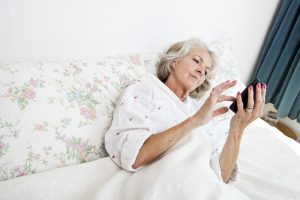 Most senior citizens today aren't interested in the latest apps, fastest processors, or smallest devices. In fact, these very things that attract most users is what most intimidates seniors. Nevertheless, we live in times where people need cell phones. Emergencies happen. It's nice to be able to stay in touch with Mom and Dad, too. So, what cell phones will suit your family member's needs and still add a little tech to their life? We've compiled 4 of the best candidates for senior citizens' cell phone needs.
The Best 4 Cell Phones for Senior Citizens
1. The Jitterbug Flip
Jitterbug is a great company that has partnered with some of the best tech developers and service providers. It's clear that their focus is providing seniors with dependable and safe devices. This flip phone is great for preventing unwanted calls or button pressing in a pocket or purse. While closed, it conveniently displays the date and time in extra-large font. Using the open phone couldn't be simpler, too. Instead of using symbols, the whole keypad features clear, large numbers as well as a "yes" or "no" option that will be prompted with any action on the phone. Type a number, and the phone will display on the screen "call?" and it's a simple "yes" or "no".  Most importantly, it has 24/7 access to 5Star, a safety service that provides on-call police, fire and medical service with the touch of a (conveniently large and red) button.
The phone also features a powerful LED light on the front that couples with the camera to function as a magnifying glass that can be used to read other small print. We nominate this phone because it's just an all-around well-built device, and who doesn't love a flip phone?
2. The Jitterbug Smart
This one, Jitterbug Smart, is from the same great company and has the same selling points as the flip phone, but it also offers a few more features in case your family member is a little more tech savvy. It sports a super simple version of Android that will still accept pretty much any app the user could want, but is geared towards a senior citizen with a simplified pull-out app drawer with large font. Phone, text messages, camera, email, and a few games are in a convenient menu, thus foregoing the need for all the icons on the home screen we're so used to. Couple all that with access to 5Star emergency response, and you've got a fun and secure device for seniors.
3. Blu Joy
Maybe the user just wants the absolute, and we mean absolute basics. This little gem is fantastically built in that compact and sturdy style we all loved from the old Nokia candy bar phones, just with large buttons and font for easy use. It sports a powerful flashlight and a conveniently located SOS button on the back for emergency assistance. It's simple, and we love it. Did we mention it retails for $30?
4. Snapfon EZTwo
This one, Snapfon, follows the same basic principle of the Blu Joy, a candy bar style phone with large, rubberized buttons and easy-to-read-font. It also offers SOS service using a large red button on the back. We like this little phone, too because of its rugged design and available feature to use contrasting black and white text instead of all color, thus improving visibility. It retails for $80.
It's also worth mentioning that most of these phones allow an agreement with the wireless provider that gives a back door function to family members in order to access the phone remotely, thus changing the ringtone, contact information, or other pertinent information without your family member needing to navigate the device themselves. Picking out cell phones for senior citizens certainly isn't the easiest, but we hope this list of 4 of the best options will help you make the right choice.