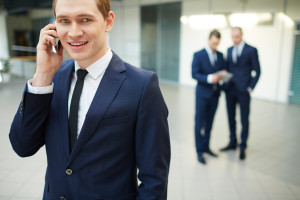 Today's office environments are full of an ever-growing list of distractions that waste employees' time during working hours and cell phone spy apps makes it easy to keep an eye on one of the biggest culprits of all.
Cell phones have gone from being a luxury used only occasionally for making urgent phone calls while on the road to an ubiquitous and ever-present distraction – tethering us all to everyone we know – 24 hours a day – everyday.
This can be a real problem for anyone running a business that allows employees company phones.
Banning the use of cell phones in the office entirely is a very draconian solution, however, and there are legitimate reasons for having one's cell phone handy during work – whether or not the job itself requires it. Emergencies do come up and the last thing you'd want is for an employee to be unaware of a family crisis for hours due to their inaccessibility by phone.
What To Do?
This whole scenario might seem like a bit of a dead end situation for employers but, as often happens, the very same communications technology causing the problem has provided a solution – or a few solutions actually.
Cell phone spy apps are convenient software applications that let you discreetly keep track of how your employees are spending their time at work (with regards to their phone). By setting up a simple app on the target device, you can access all kinds of useful data about the device's activity through a completely separate interface that requires no further physical interaction with the phone.
This means you'll be able to view :
Calls made and received
Text messages sent and received
Messages transmitted via other platforms including WhatsApp, Skype, and Viber.
Other bits of useful information about the phone including GPS data.
What Does This Mean For Your Business?
Having easy access to this kind of information means you can see what your employees spend most of their working hours doing – and take corrective action if necessary. Sometimes, all that's required is a meeting where everyone is informed of your expectations (or the firm's expectations) of them with regards to phone use during the workday.
For employees who use the company phone as an integral part of their job, an appropriate policy might be that they only use it for that purpose and that personal non-business communications be kept to an absolute minimum.
Summary
Lots of software solutions are available and many of them offer a great feature set at very reasonable prices. Some popular apps you'll want to check out include :
–        mSpy
–        MobiStealth
–        SpyBubble.
These and all the other major cell phone spy applications tend to work very similarly so deciding between them is largely a matter of personal preference (with regards to a few unique features) and budget.