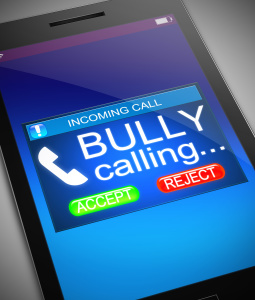 Smartphones can be great pieces of technology that can help your children to connect to the internet and with their friends.
It also gives bullies a platform from which they can feel invulnerable, giving them infinite potential to harass others online.
One of the biggest concerns for a parent is the risk of cyber bullying by text messages, and unfortunately it is something that does happen.
Some of the Aspects of Cyber Bullying by Text Messages
Unlike bullying that may happen at school or in the outside world, SMS-related cyber bullying can be a lot harder to deal with. Firstly, it is a lot more discreet – it is possible for an individual, or even a group of individuals to send harassment via SMS to another child if they happen to get hold of that child's number.
Most bullies can remain anonymous whilst texting, and they may put your child into a state where they are scared to tell anybody about the bullying. Cyber bullying via SMS is also seen as a less concerning matter than real bullying, so your child may feel uncomfortable talking about it, for the fear that they may be looked down upon.
Another terrible factor to text message bullying is that bullies can reach your child 24/7, giving them very little room to feel safe. With bullying in the real world, your child at least has a space that they can get away from the bullying, but your child's smartphone is constantly connected, giving bullies a portal from which they can attack from with surprising ease.
How to Deal With Cyber Bullying
If you are worried that your child may be dealing with cyber bullying, there are a few ways to deal with it. Firstly, you can talk to your child and ask them if they are having any issues with individuals at school. Being open about it is the first step to gaining your child's full trust, and this will favor the both of you in the future.
Unfortunately, your child may feel pressured into not revealing the bullying or harassment they are dealing with, and as a result it may be hard to get the truth out of your child. If this is the case, you may want to consider using a smartphone monitoring app that can keep track of the SMS messages received on your child's phone.
Keep an Extra Eye on Your Child
With monitoring software, you can keep an eye on what your child's peers are saying to him or her, and if bullying is happening you can spot it and learn to deal with it. Even if your child deletes any sent or received messages, you will still be able to read messages from the monitoring software, so long as it was installed on the phone before the message was sent.
We review monitoring software here.
Usually a simple phone call to the harasser or the harassers parents can help to deal with the issue, and if it continues, contacting authorities is always an option.
Keep your child safe!