i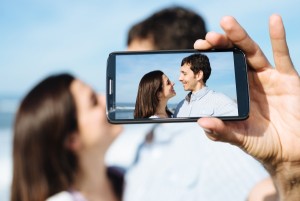 Phones have one of best cameras out there. They are fantastic for snapping photos and videos. With the iPhone's excellent hardware, software and accessories, you can take amazing photos like a boss.
Though there are several limitations to taking photos with a phone, these tips will help you become an iPhone camera pro.
1. Use the Camera Grid
Your iPhone has a grid option that helps to ensure your pictures are straight. The grid superimposes a series of lines on the screen to help you compose your photos as you take them.
The grid can also be used as a guide to follow the rule of the thirds – a technique where your main image or focus is placed on the intersections of a vertical and horizontal line. To turn on the grid function, go to Settings > Photos & Camera > and enable the Grid switch.
2. Turn on Auto HDR
Your iPhone comes with a built-in software feature called HDR (High Dynamic Range). This mode enhances the darkest and lightest parts of your focus and stopping them from becoming overexposed or disappearing into blackness.
This is achieved by snapping several photos very quickly at different exposures and merging them together to created a unified image. HDR works best when you're taking images of landscapes, low-light areas and places with different lighting.
You can set Auto HDR from the Camera app. This helps save a little bit of extra storage space by enabling HDR when it's needed.
3. Tap to Focus
Basically, your iPhone camera will try to make everything in the shot is in focus. This means you can have a blurry background behind a sharp subject automatically.
If you want your camera to grab a different subject in the frame, tap on what you want to focus and a yellow square will appear to signify the area you've focused.
4. Try Third-Party Apps
There are several thousands of third-party camera applications for your iPhone. Though the default camera is great, there are many apps out there that can greatly improve the quality of photos. Check out VSCO cam and PowerCam
5. Use Burst Mode
If you are taking shots of fast moving objects, such a sport, ride or a bunch of running kids, the burst mode offers the best option to capture such occasions.
Apple included this feature for shooting clear pictures of moving objects, but can also be used when your camera is moving too. By taking several shots in a rapid succession, you can select the best photos or create a collage of them all.
To shoot in Burst Mode, tap and hold the shutter button to begin shooting. To stop shooting, release your finger off the shutter button and the burst photos will be saved to your camera roll.
Hope these tips helped you learn more about taking stunning pictures with your iPhone. There are many more tips out there but these will help even the iPhone newbie take wonderful shots.