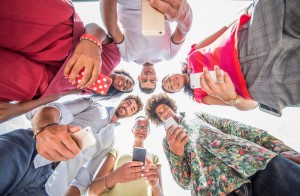 It's often easier for you to send text messages to groups of people than it is to just send out emails that some people might not have the time to open. Fortunately, there are a number of popular apps you can use for when you're aiming to send group texts to all kinds of people. Here are five of the best choices that you can utilize. Most of them are free to use and the ones that do cost extra are amazingly cheap.
Top 5 Apps For Sending Group Texts
GroupMe
GroupMe is a popular app that is available for just about every operating system. This lets you link to multiple people at a time and even lets you start conference calls by text. You can also use this to send photos and real time information on your location. This app is free to use and lets you save data on individual people so you can easily set up the same group later on if needed.
Beluga
Beluga is an app that was recently acquired by Facebook. It works on iOS and Android devices alike. You can create your own unique group and then share your location and photos with people through the app. You can also use a traditional desktop browser to send texts to the people on your contact list if you prefer to go there instead of on your phone.
Google Voice
You can send a text to as many as five people at a time with Google Voice. This lets you quickly send messages to multiple people and to get several responses from those people as they come along. This can work with any phone number in the world and lets you quickly send messages out for free. You can enter different international numbers into the program and still get messages sent out to those numbers for free.
WhatsApp
WhatsApp not only lets you send photos and texts to multiple people at a time but also videos. You can even send messages to international customers without any added charges. This does cost two dollars to subscribe to it for a year although iPhone users only have to pay one dollar just once to get access to it. The savings that come from not having to worry about high expenses for texting will certainly be worthwhile for most users.
Tango
Tango is perfect for when you're got a very large grouping of people that you want to send texts to at the same time. You can send a message to up to fifty people at once. You can also make voice and video calls with this app. You can also send music messages that are powered by Spotify. You can use this app on not only your smartphone but also on a tablet or a desktop computer.
You will be surprised at the assorted apps that you can use for sending group texts. These are great to have and will do well if you're going to communicate with a variety of people from all corners of the world. The ability to send more than just text message to people with these apps will especially make them great to have.