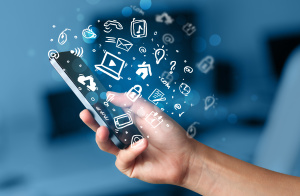 Over 25.8 million Americans and 382 million people throughout the world is diagnosed with diabetes (and these figures keep escalating).
There are thousands of diabetes apps on the Apple App store and Google Play store which are specially designed for those battling the disease. The following are top 5 diabetic apps you can download on your iPhone or Android to help you cope with it.
Top 5 Helpful Diabetic Apps
#1. One Drop
After being diagnosed with Diabetes, Jeff Dachis, co-founder of digital marketing agency Razorfish decided to build One Drop to help himself and other diabetics to manage their glucose testing, insulin medication, food and activity logs.
The "We" section of One Drop is designed to help those with type 1 and 2 diabetes to log and share their health information with their peers in order to manage the disease more efficiently. The "Me" section, on the other hand, displays your insulin, glucose, food and activities on a neatly laid-out timeline. Here is One Drop's feature list.
One touch logging for glucose, food, medication and activities.
Sharing among peers, powerful insights.
One Touch Drop Dial
Photo logging
Apple HealthKit integration.
Apple Watch support
Create tags and notes
One Drop is currently available on the Apple App store for free.
#2. Glooko
Glooko is designed to help diabetes patients manage the disease efficiently. The app allows you to track your blood, glucose, and insulin from over 30 popular meters. It also provides synchronization with your meter, pump and continuous glucose monitoring (CGM).
Your health data is made available to you always and you also get statistics in a graph form. In addition to managing your health data, the app has a food database to teach you more about your eating habits.
Diet, exercise routine, and medications are synced across all your devices with the ability share the information with your doctor. Glookos come with 3 different packages: Individual Patient, Individual Clinic, and Payers and Health Systems.
There is an Android and iOS app for Glooko which is available after making a purchase.
#3. Glucose Buddy
Glucose Buddy logs and tracks your numbers and makes available the data you need to manage your diabetes with ease. There's not much to talk about when it comes to its UI, but it does provide other essential features. You can input your glucose numbers, insulin data, and the diet information for each meal you take. In addition, this app helps you track your exercise, blood pressure, and weight. Here is a summary of Glucose Buddy's features.
Log Book
A1C Calculator
Doctor Printout
Push Reminders
Graphs
Glucose Doctor is available on the Apple App Store and Google Play.
#4. Fooducate
As the name suggests, Fooducate gives you "Food Education". Managing your diet is important as far as managing diabetes is concerned. It goes beyond counting how many calories you've consumed and how much you weigh.
Fooducate helps you identify sugary, fatty, GMOs, additives and junk foods which may be a threat to you. Scan a food's barcode to see what really your food is made of, and see other healthier alternatives. Here's a list of Fooducates top features.
Track food intake, calories, and exercise
Scan a product barcode to see the food's nutrition information
Learn about a food's pros and cons
Healthier food alternatives
Add your own foods
Interact with lively community of users
Apple Watch support
Fooducate is available for free on the App Store and Google Play.
#5. Dbees.com
Dbees helps you manage your insulin, diet and medications all in one single location. Like the others, the data is collected on your phone and detailed reports are generated for you. The system selects for you applicable activities and tests which won't cut into your busy schedule.
The app sets alarms and reminders for you and gives you access to your data online. You also get to send your reports directly to your doctor. Here are some of its features.
Supports type 1, type 2, LADA, gestational and secondary diabetes
Supports insulin, pills, insulin pump, diet and mix treatment methods
Alarms and Reminders
Get health records for your doctor
Available in English, French, Spanish, Portuguese, Russian, Polish and Dutch.
Dbees is absolutely free and support  Android, iOS, Windows Phone and Symbian.
These top 5 diabetic apps are based on their unique ways of helping diabetics manage the disease.  Even though these apps will help you in keeping you healthier, always remember prevention is better than cure. Eat right and live right!