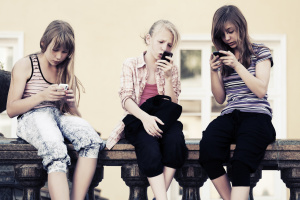 If you're a parent, it's easy to be concerned about what a child or a teen may be doing with their smartphone, and the simple fact that they can be so versatile offers children with a minefield of potential dangers. Whilst there are plenty of smartphone monitoring apps out there, there's an equal amount of reasons why using such software is frowned upon. Below we've weighed out the pros and cons of using smartphone monitoring apps so that you can help to make decisions about your child's phone activity.
The Pros
As a child, it's easy to end up on the wrong website, get in touch with the wrong people, or simply stumble upon something that could be damaging to them. For this reason, smartphone monitoring apps can ensure your child does not end up on any bad websites or apps that are potentially harmful.
On top of this, you can ensure that your children aren't communicating with any individuals that may prove to be a bad influence, and most importantly, make sure that your child is not talking to any strangers that could be a threat.
Another great feature of many parental control apps is the use of GPS tracking – being able to know where your child is can help you to make sure they don't get lost or end up in a rough area.
So, in summary, there are quite a lot of uses for smartphone monitoring apps, some of which snoop into a child's life more so than others.
GPS tracking
SMS and call monitoring
Website and app blocks
Web browsing monitor
The Cons
Like everything with life, there are usually negatives and positives, and with smartphone monitoring apps, this is certainly the case. Using such software typically starts some quite controversial conversions for a few reasons.
Firstly, using monitoring software without your child's consent is considered a huge breach of privacy, and snooping into your child's affairs is a quick way to break trust between you and your children. It can be worrying not knowing for sure what your child is up to, but unless you are clear about why you use monitoring software, your child may feel untrusted, and this is definitely not going to help improve family relationships at home.
Monitoring other details such as SMS and social network messages could also create difficult scenarios between you and your child – everybody has details they would rather keep to themselves, and at times, not knowing about simple happenings at school could save your child from embarrassment.
It's also important to realize that although with monitoring software you will learn more about your children, they will not have the chance to get to know you, and this will potentially lead them to trust you less, which is almost contradictory to the reason you've installed the monitoring software in the first place.
Trust issues
Children, just like adults, deserve privacy
Prying too far into a child's life may make things awkward at home
You may know more about your child, but a lack of communication results in him/her knowing little about you
In the end, it really comes down to a balance between trust and concern – you need to be able to have an open conversation with your child about trust, and teach them why blocking certain websites may help them to avoid any harm in the future. It is often hard to get a child to trust you, and this is where monitoring software can be useful, but typically it should only be used to ensure your child is doing okay and is not in any danger, and it should not be used to pry into his or her social life.