WebWatcher is a cell phone monitoring software that allows you to watch what your children or employees are doing on their phone at all times. It is important to keep an eye on them to ensure that they are staying safe and also productive throughout the day. WebWatcher is designed to work with Androids, Blackberry and iPhones. The program is linked to a web-based account that can be accessed by you whenever you want to view data. Data is uploaded here in real time so you can always be confident with the information you are receiving.
WebWatcher for smartphones is a basic monitoring program, but if you are monitoring iPhone NO jailbreak is required.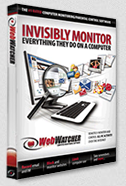 Overall Ranking: 9/10
Website: WebWatcher

Money Back Guarantee:
Price: WebWatcher for iOS $99.95 / WebWatcher for Android $99.95 / WebWatcher for Blackberry $69.95
Jailbreak or Rooting Required: No
WebWatcher Benefits
There are many different benefits to working with this program. One of the biggest benefits is that you are able to keep an eye on your teenager or employee as they go about their daily activities.
As a parent, it is your duty to protect your children and you understand that it can be difficult to always watch them when you have other obligations to attend to.
As an employer, you want to make sure that your employees are being productive and getting their work done. If an employee does not have your company in its best interests, they may be slacking off or neglecting important parts of their job for their personal life.
You can now monitor the company cell phone and watch what they do during business hours. You can also make sure that they are going on deliveries and meetings when they are supposed to be.
Program Features
To be honest WebWatcher has a long way to go, to become the leader of the smartphone monitoring industry as far as features goes. They offer the basic features to help you monitor the target phone successfully. If that is all you need then this might be your choice. WebWatcher offer the following features:
Text Messages – you can easily see all of the sent and received text messages that come and go from the target phone. You can even see deleted one.
Phone Log – you can monitor when calls are being made, when they are missed, and when they are received. You will also have access to the time of the call, the duration, and the phone number of the person on the other end.
Photo Recording – allows you to keep track of any photos that are taken, saved, and sent from the device in question. You can also see if they have been deleted and whether or not the picture was shared on social media or through messages. This is labeled "coming soon" for the iOS user.
Geolocation "Currently Not Available" – this feature allows you to follow and track all locations that the phone goes. This is all done in real time so you will always be up to date. You can even connect the dots to see the entire traveled route right at your fingertips.
Web History – only for Android – you are able to monitor all of the websites visited on the device.
Email Monitoring – only for Blackberry – you can see all the emails send and received monitoring a Blackberry device.
Log In Anywhere – you can monitor the phone from anywhere you are as the information is automatically sent to your online account. If you have an Internet connection, you can view the target phone and what it is doing.
Let me sum it up for you, because some features are offered for one of the smartphones but not the other ones. Here`s the main features depending on what kind of phone you monitor,
Android
No Rooting Required
Monitor Text Messages
Phone Log
Photo Recording
See Website History
Monitor Apps Installed
Alert Word Notification
Social Media: Instagram, SnapChat
Invisible
iOS – iPhone and iPad
No Jailbreak Required
Text Message Monitoring
Phone Log
Photo Recording
Website History
Alert Word Notification
Invisible
BlackBerry
Monitor Text Messages
Phone Log
Photo Recording
Email Monitoring
WebWatcher Compatibility
WebWatcher is compatible with multiple different cell phones and cell phone services. Check out the compatibility below:
Android
Version 2.1 and higher
Tablet versions 2.1 and higher
iPhone
iOS 6.0 and higher, it is working with iOS 8
iPad 6.0 and higher
iPod 6.0 and higher
BlackBerry
BBOS version 5 and higher

Installation iPhone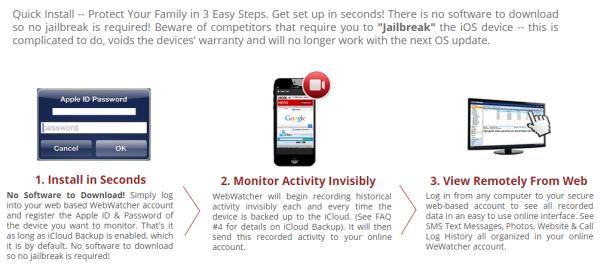 Installation Android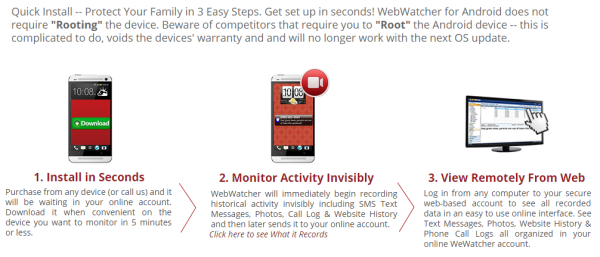 The installation process is very quick and simple leaving you ready and able to start tracking and monitoring the target device at your leisure. Once you purchase the program, you will be sent an email. This email will contain all of the information you need to proceed with the installation.
The steps will be presented to you on screen and you can easily follow along with it. The whole process takes up to about 5 minutes or less depending on your familiarity with a cell phone device.
Pros and Cons
Pros:
No jailbreak for iPhone or iPad
No rooting for Android
Offers multiple versions of the program which can be used on home PCs as well
Is compatible with many different phones
Is invisible
Allows you to see deleted information
Cons:
Does not have some of the more enhanced features other programs do
You cannot block applications or websites
Refund policy only last 72 hours
WebWatcher Support
The company offers a few different support channels for customers and this is important because if you ever need help with your product, you need to be able to reach someone without any problems.
WebWatcher welcomes you to chat with an online representative 24 hours a day and 7 days a week. You can also call into the company to speak with someone over the phone if you need help immediately and prefer not to use the chat.
There is also an email address to send in any queries and you will receive a response in a reasonable amount of time.
The company shares its physical address in the event you need to get ahold of them or want to check the validity of the company.
Final Verdict
WebWatcher is a great program for parents and employers and will provide each with basic features to help monitor their employees and children. It is important to make sure that you are always looking after your children to ensure they are safe. You can easily watch your employees to make sure they are being productive.
WebWatcher has been on the market since 2002 focused on monitoring computers, they have now taken the step into the mobile world as well. If you only need the basics, reading text messages, call log and track GPS location then this program does well. If you need more than that, if you need to track social media, get alerts, control apps and more than I would suggest you take a look at one of the other monitoring software we review.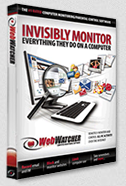 Overall Ranking: 9/10
Website: WebWatcher

Money Back Guarantee:
Price: WebWatcher for iOS $99.95 / WebWatcher for Android $99.95 / WebWatcher for Blackberry $69.95
Jailbreak Required for iOS: No