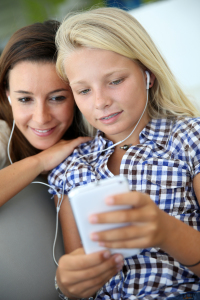 Numerous apps are available for iOS and Android, allowing you to track every last detail of your child's online life, as well as their comings and goings in terms of their physical location.
There are tools that allow you to monitor just about anything, from phone calls to online messenger conversations. Here we are going to take a look at exactly what is available to concerned parents in terms of child monitoring online.
Your child's phone can not only be a valued social and learning tool, but also a means to maintain a clear head, free from unnecessary stress over the wellbeing and whereabouts of your child.
Location Tracking
Using the GPS of their phone, you can use a variety of apps to track, map and locate the whereabouts of your child. Certain applications even allow you to track multiple users, building a network of children through interactions between parents.
This allows you to easily keep track of where your child is, as well as who they are with. Both paid and free apps exist for Android and iOS, there is most definitely an option available for all.
Remote Control
Specialized apps can be used to schedule the playing of video content, allocate times when a device is allowed to be used, as well as when what on the device can be used. One can completely customize the usage of one's child's phone, regardless of whether it is an Android or iOS device.
The phone can be as open and free as you wish, or as restricted as you can imagine, the choice is yours. Remote control applications typically give detailed statistics covering phone, app and browser usage, allowing you to see exactly what has been done on the device at any given time.
Phone Call, SMS, MMS & Messenger Logging
Certain mobile applications even allow you to monitor your child's device to the degree of being able to record their phone calls, messages of all forms and all online communication. One can listen to voice and video calls in real-time, as can you intercept SMS's, MMS's and all online messengers.
Silent operation is normally allowed by such applications, allowing to you monitor your child without them being aware of it at all. Conventionally one is also afforded the option to block access to any particular contact or message source, one is afforded a lot of freedom of configuration.
Social Networks
If you have the concern that your young one is either the victim of cyberbullying, or is involved in dubious activities and using social networks such as Facebook to stay in touch with confidants, then you will be pleased to know that countless apps exist to put the power back in your hands.
Regardless of which social network your child is using, there are both free and paid apps that can fully monitor all activity. One does not need to be intrusive, as most good apps allow warnings and alerts to be configured, so that you are only made aware of possible infringements regarding your preconfigured parental filters.
Paid apps are available at fairly low costs that give the greatest deal of customization regarding logging and alerts, and often make a great alternative to a full blow invasion of privacy.