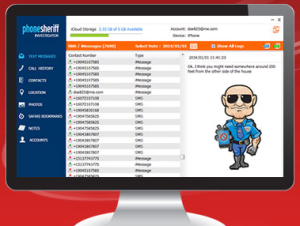 In the digital age of today society, it is important for parents to make sure their children are safe when using their cellphone by monitoring their activates with a program like phone sheriff.
Want to control the times your employees can use their smartphones or tablets by providing restriction?  Phone Sheriff is software that filters and monitors tracked activities in real time for you to review. Once you review their activities, you will have the choice to block those you see inappropriate or unsuitable.
It is one of the first software with the ability to monitor Windows Mobile, iPhone and Android based smartphones.  PhoneSheriff, a part of the better business bureau, has proven to have a safe and reliable product and service.
Who Use Phone Sheriff?
Both parents and businesses monitor phone activities and provide security using Phone Sheriff program.  For parents, the software can set restriction to a child's smartphone and block them from communicating with strangers.
Employers can control what times clients can use their smartphone, apps they install, and who they are communicating with.  Businesses use PhoneSheriff to protect their company from having low productivity and releasing confidential information.  A list of the most commonly used features includes:
block any phone number from calls or texts
create time restrictions
silently record SMS text messages
record call information and duration
GPS tracking
contact and photo logging
remote locking and data wipe
easily check logs online from anywhere
block websites
Wireless communication has emerged as one of the fastest mediums on the planet. At first, cellphones were viewed as a way for parents to improve safety of their child and to keep their child connected to family and friends.  Smart phones have become multimedia recording devices and pocket-sized computers with Internet capabilities.
A survey conducted by teens with cellphones showed on average, the most popular uses in order from highest to lowest:
to take pictures
share pictures with others
play music on their phones
play games on their phones
exchange videos on their phones
exchange instant messages on their phones
go online for general purposes on their phones
access social network sites on their phones
use email on their phones
purchase things via their phones
If this sounds like the ideal program for you to use, it is easy to install on the monitored device.  Once you install the program, you can immediately set up specific restriction on the phone functions. To see the results, log into your account on the PhoneSheriff website and review the categories.
Why Should You Consider PhoneSheriff  As a Monitoring Software?
With global recognition, PhoneSheriff is highly recommended and has even gained media attention and advertisement on the radio.  In the US, the program offers free phone support answering any question you have or guide you though the setup process.  It is also one of the very few programs that offers a secure control panel guaranteeing your sensitive data is protected.
The best way to protect your kids or monitor employees activities is by using a software like phonesheriff to aid in the protection of their safety and to properly use the phone with established boundaries.