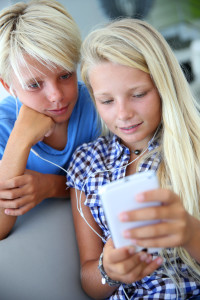 What exactly is the appropriate age for a child to have a cell phone? This is a debate that gets many people stirred up and there are parents who are pro cell phones and others who are against cell phones. Cell phones offer you the luxury of being able to reach your loved one whenever you need to and it also gives you a way to call for help should something happen. When it comes down to it, there really is no specific or right age for a child to have a cell phone. It is up to the parents to decide when their child is an appropriate age to have one.
Studies show that children are beginning to get cell phones at a much younger age than previously. Today, you may notice 5 and 6 year olds with tablets and other devices that allow them to play games and also stay in touch. Previously, children were in their latter teenage years before cell phones were allowed. As the world evolves and changes, it is important to adapt with it. More children need cell phones to stay in connection with their parents.
Choosing an age for your child is solely up to you and you can determine when your child is ready. Your child should be understanding and they should also know the difference between right and wrong. You will want them to understand that there are harmful things that can be accessed on the Internet.
Keeping Your Children Safe
To help keep your children safe while they use a cell phone, you can purchase programs such as Phone Sheriff. This program will allow you to review and monitor what your child does on their cell phone.
Some of the main features allow you to watch their text messages, call logs, websites visited, pictures, emails, and also location. This will help you keep an eye on them and you will feel better knowing they are safe.
If you use a monitoring program on your child's cell phone, you can let them know that it is there and present. You can tell them that anytime they navigate the web, you can see what they are doing. This will help deter them from doing inappropriate things but even more, you can let them know you will always know where they are in the event of an emergency.
Phone Sheriff is a great way to keep an eye on what your child is doing on their phone. Knowing that your child is not getting into trouble or viewing inappropriate material will help you rest easy at night. The program has received many rave reviews by other parents who are in the same boat as you and want to keep their children safe while they use their cell phones.
It can be difficult to decide when your child is the appropriate age for a cell phone but once you have decided they are ready for one, you can jump right in and know that you are able to keep an extra eye on them.