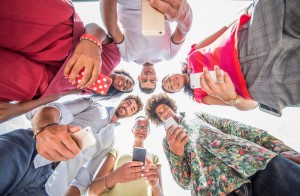 Every year offers something different and that includes smartphones as well. With every line that Samsung or Apple comes out with, there is an accompanied innovation and as users we can't help but just be in awe. It's an amazing thing to come up with a device as powerful as the iPhone but to continuously improve it as well? That's just skill.
And this goes as well for Samsung and their innovations. So now that 2017 is drawing to a close, it begs the question –what does 2018 have in store for us? That's what we're here to talk about! In this article, we'll share with you what we think users (both Apple and Android) can expect in terms of smartphones.
What to Expect of Smartphones in 2018
Facial Recognition
Samsung have been the first one to roll out the facial recognition but there were reports that it was still pretty clunky. With the release of the iPhone X, Apple has officially joined the party with facial recognition and got rid of the fingerprint scan. Given this, you can expect facial recognition to be part of every succeeding iPhone and Android smartphones will follow in suit.
Horsepower
You may not be familiar with the technicalities of the chips found in your smartphones but even then you'll be glad to know that you can expect a bump in their power. The typical CPU core used for smartphones are developed by ARM, a UK-based chip designer company. To cut the long story short, they've updated their CPU's to be stronger and more efficient –something which hasn't been done in over 4 years.
Edgeless Designs
Another trend we expect to see in smartphones is their screen design. Similar to smartphone developers such as Samsung, Apple, and LG, your smartphone's screen may take up most of the body. This can be seen prominently in the iPhone X and you can expect other smartphones to follow this design concept as well.
4K Screens
The latest smartphones are always battling for the clearest picture and at this rate it'd be no surprise if they equipped their models with a 4k screen. Of course, this will require more power from your smartphone but given the advancements in technology, it'd be no surprise if they came up with a solution for that.
Augmented Reality
Some smartphones have already introduced this feature but users still haven't fully embraced it. It can be because it's still a new concept and hasn't been properly introduced to the market. However, you can expect smartphone developers to explore how they can fully utilize this feature because the first one that can successfully pull this off will be looking at a serious bump in sales.
What do you think?
These are what we think will be smartphone trends in 2018 but we want to hear your thoughts as well! Given what we gave, what else do you think we'll be seeing in next year's smartphone models? Virtual Reality games? Battery transfers between smartphones? A fully functional AI that talks to you when you're bored? What do you Expect of Smartphones in 2018?