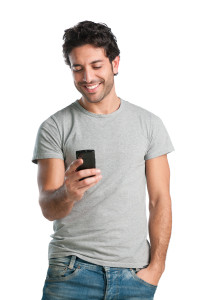 We all know that we have received some text messages that we would not show our parents, co-workers, or even the public. Text messaging has allowed people to communicate with each other without actually having to talk.
This allows you to type something out and send it and it is kept somewhat secret depending on who sees the message and whether or not the other person says something. But what if you could keep these messages private all of the time?
The New App
There is a new application called Confide and it will be available in the app store for the iPad, iPhone, and iPod Touch. This application is considered a message deleting application and it is offered free to customers. The application works by allowing you to sign in and send a text message to any email address of your choice. The application will have an address book but you are not limited to who you send the message to; simply type in the email address.
The person receiving the message will also need to have the Confide application and be logged into their account to see it. To be able to read the message, the recipient will have to slide the message across their screen word by word. You will know once the person has received your message as the application will kick back a read receipt to you. Once the recipient of the text message is done reading it, they will close out of it. When this happens, the message will completely self-destruct and disappear from both the sender and recipients accounts.
The messages that are sent back and forth are encrypted for privacy reasons. The reason behind swiping to see each word is to help protect the sender and it does not allow anyone to save or screenshot the message.
If this application sounds familiar to you, it is similar to the popular SnapChat application which allows users to send pictures to each other that self-destruct. This application will be a great way to keep your messages private and only for the eyes of you and the intended person. This application will also help eliminate others from getting information and spreading it around.
Confide has worked very well during tested runs and it does exactly what it is supposed to. Are we really ready for a world where our messages self-destruct? Yes. Technology has advanced a lot of time and people are always looking for ways to keep what they say hidden. We all know about blackmail and also other users posting information about you on social media sites. Confide will help eliminate this by eliminating the message completely and destroying it.
Users of Confide can rest easy ad have the peace of mind knowing that they can express and say what they need to without the consequences that may occur if others heard or read what was being said. So, how about it? Will you be downloading this application?