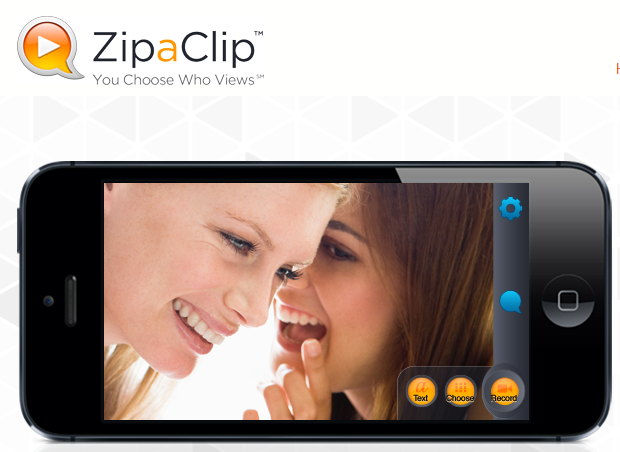 Have you read the latest ZipaClip review? This innovative, new application provides iPhone, iPad and iPod users with the ability to control who can see text and video messages sent from their devices. Privacy is a hot topic in a modern world where seemingly anything one does or says can be shared at the click of a button.
ZipaClip
Website: ZipaClip
Cost: Free to Use
ZipaClip allows message recipients to view texts and videos, but the data they receive cannot be forwarded from or saved to the device. The application achieves this through the use of encryption technology. Once messages are sent, they are delivered to a secure cloud instead of a device. The recipient views an image, alerting them to the message, before the application streams the encrypted message to their Apple device.
In addition, this new app allows users to import videos housed in a camera roll prior to when ZipaClip was downloaded. These video messages can be sent through the application as well. From start to finish, the sharing process is 100 percent private!
Product Features
Aside from the obvious peace of mind users get from knowing their text and video messages are completely secure and hidden from prying eyes, ZipaClip offers users a variety of convenient features.  If you lose your iPhone or someone steals your iPad, you can rest assured your messages will remain private. ZipaClip uses technology that allows users to lock their private text and video messages with what they call a personal dot-lock code.  Here are just a few more popular features this application offers:
Easy to use: Share experiences quickly with just one touch.
Forget about mistakes: With ZipBack, recall a private message after it has been sent.
It's free: There is no cost obligation to get started with ZipaClip.
Get Started for Free
What's even better is ZipaClip is available free of charge.  Users can download the app for free and start sending and receiving private text messages immediately. The free service also allows users to send video messages up to 30 seconds in length. Video messages of any size are always available to be received free of charge.
For individuals who wish to send longer messages, ZipaClip requires the purchase of messaging minutes. These minutes are good for sending video messages between 31 seconds and five minutes in length.  ZipaClip also requires users purchase storage minutes once the total length of sent messages goes beyond 30 minutes. The application download comes with 30 free messaging minutes and 30 free storage minutes.
To get started, each recipient who wishes to send and receive messages will need to download the application. ZipaClip is compatible for use with iPhones (3GS, 4, 4S, 5), iPads (2nd, 3rd, 4th generation), iPod Touch (4th and 5th generation) and iPad Mini. iPhones must be running on operating system iOS 5.0 or later.
Are you ready to get starting recording personal messages for sharing with family and friends? With all the great features this application offers, who wouldn't be? This ZipaClip review agrees that this application is one well worth the download.